The final day was home day. There was no riding, and no horses involved, and we were all transferred to Pula after breakfast. For some of us it was for the whole day – a little two long – but for those with earlier flights it was only a couple of hours – a little too short.
Still, there was some good scenery to be had, and a little more about the town than Rovinj had – which was good as there was no way we could kill eight hours there if there wasn't.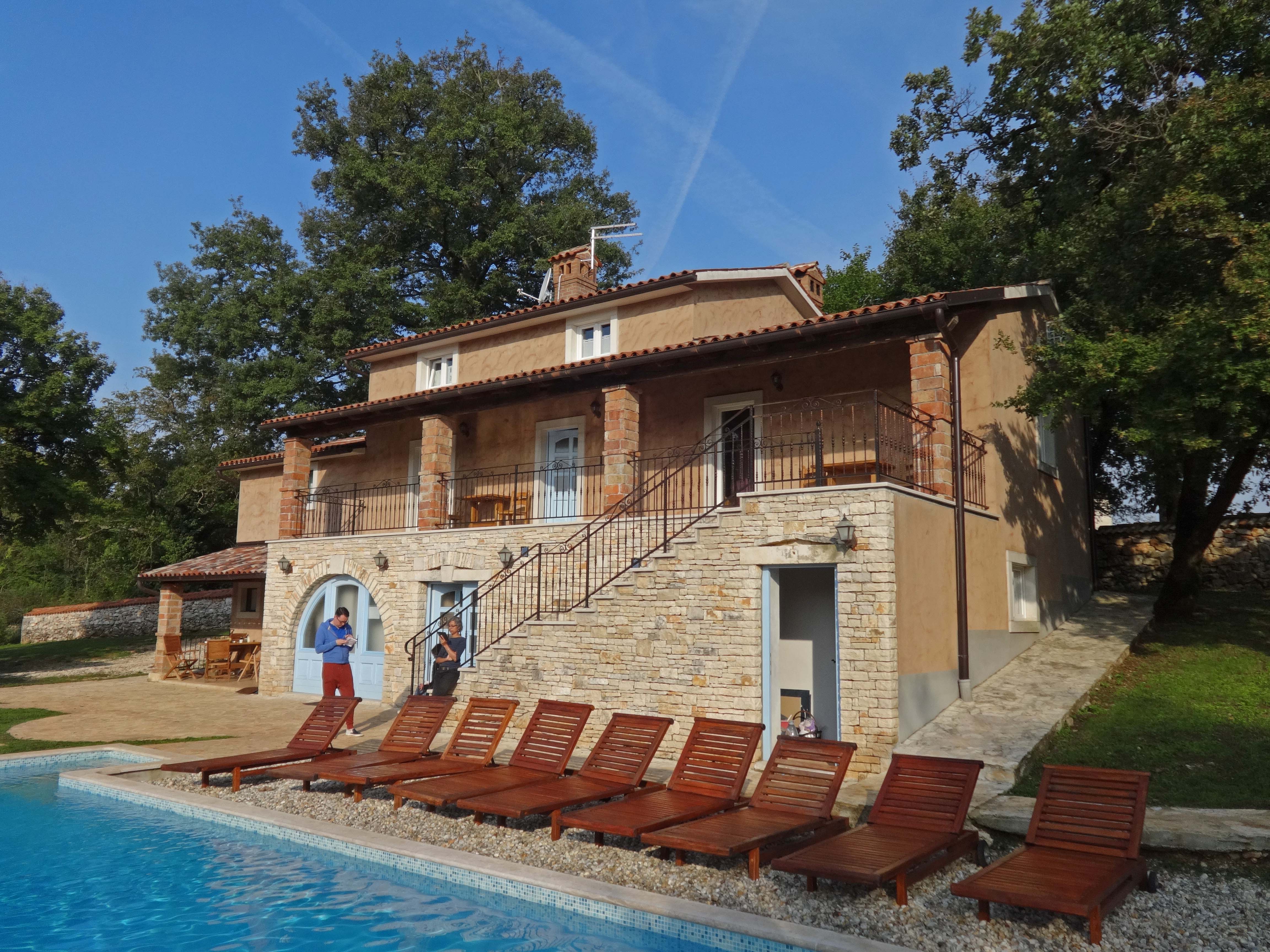 Before we set off I managed to take a photo of our base for most of the week. It was rather nice!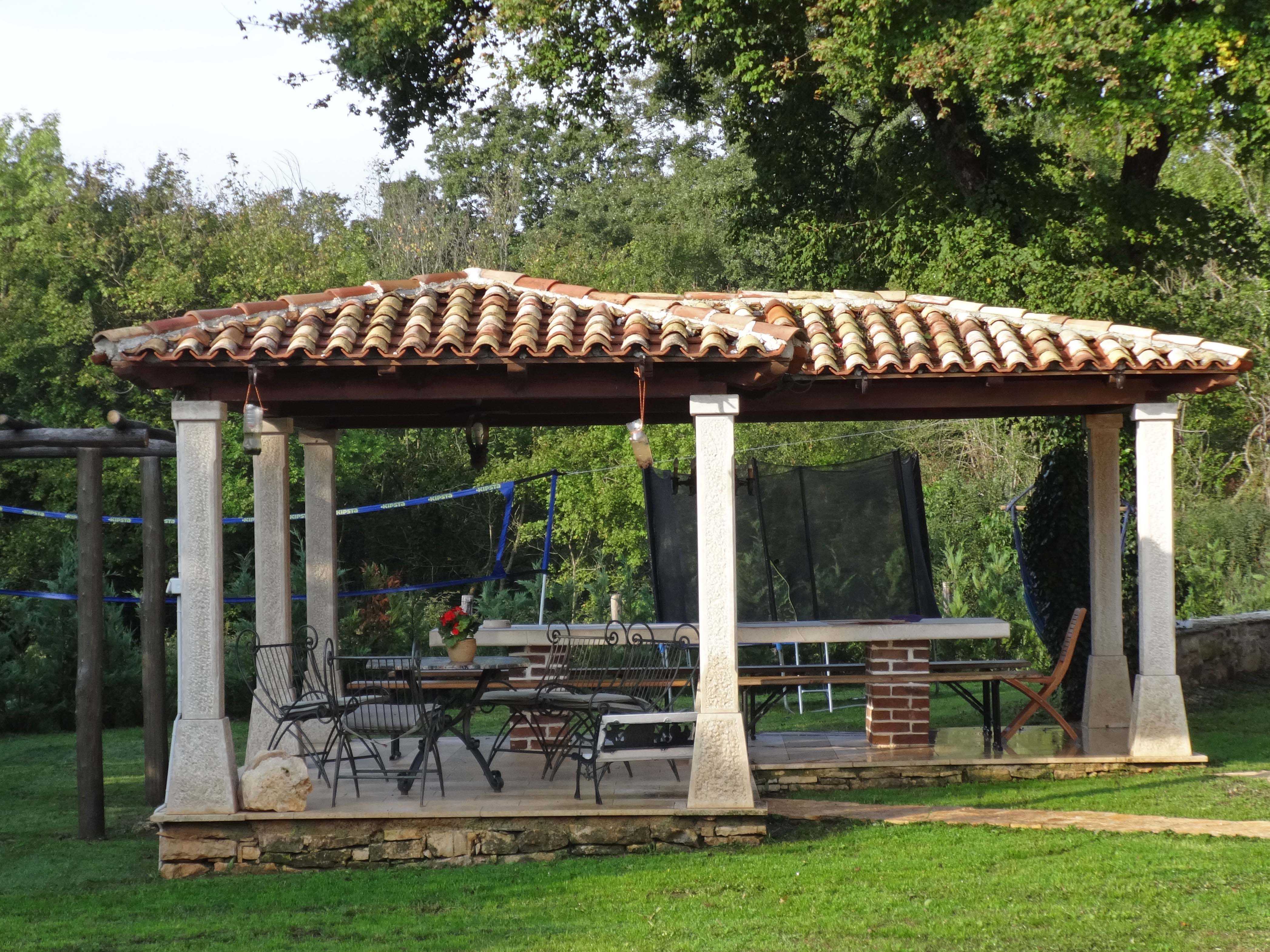 With an outside dining area, although it was too cool to use for all but lunch on the last day.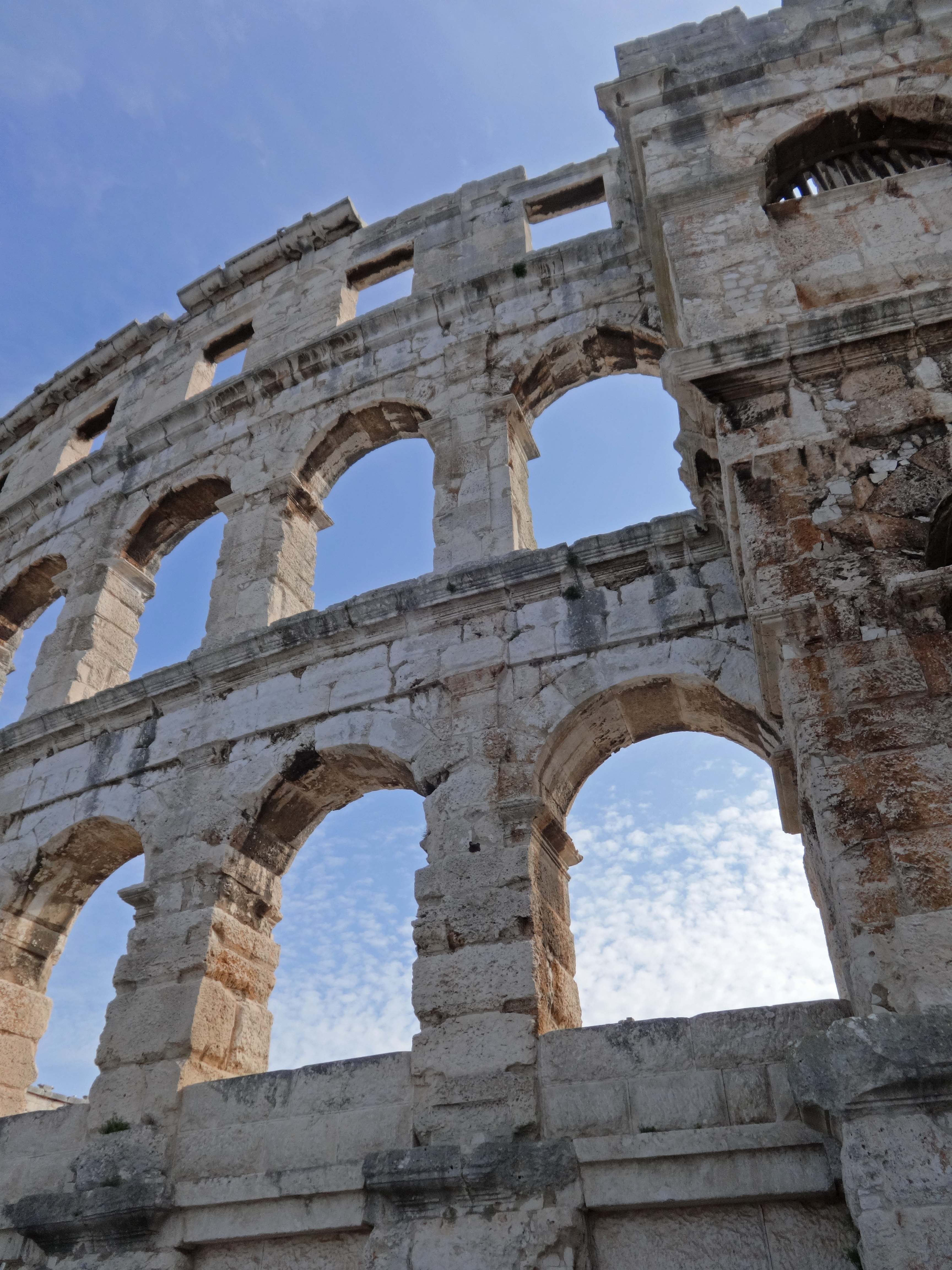 Anyway… on to Pula. It had a colosseum an amphitheater, of the old Roman type, which made for some good photos. It was also the hottest day of the week and, dare I say it, would have been too hot to ride a horse. Or too hot to be comfortable at least. Quite some contrast to deluge-day (as Monday will forever be known).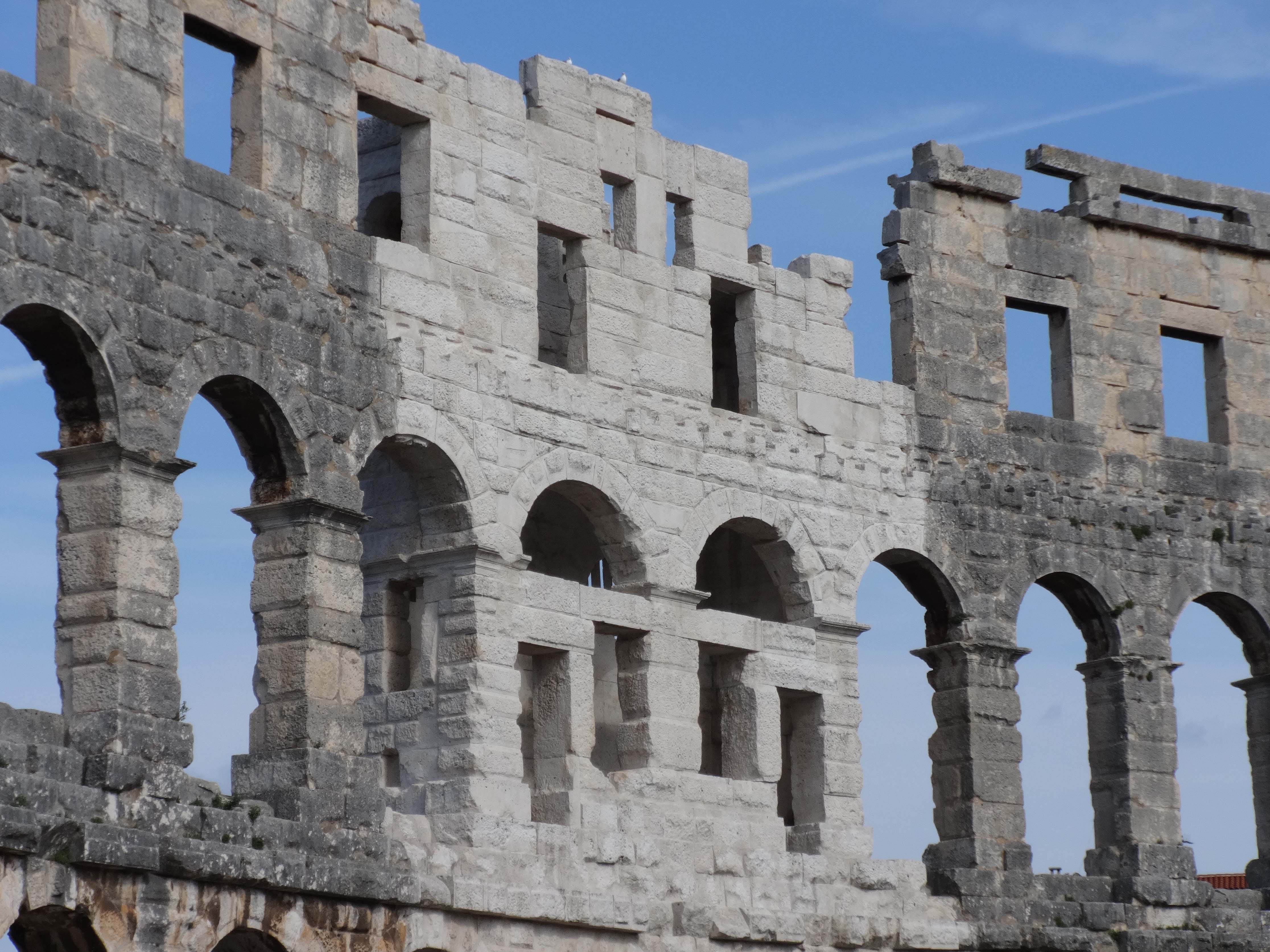 Ruins + sky.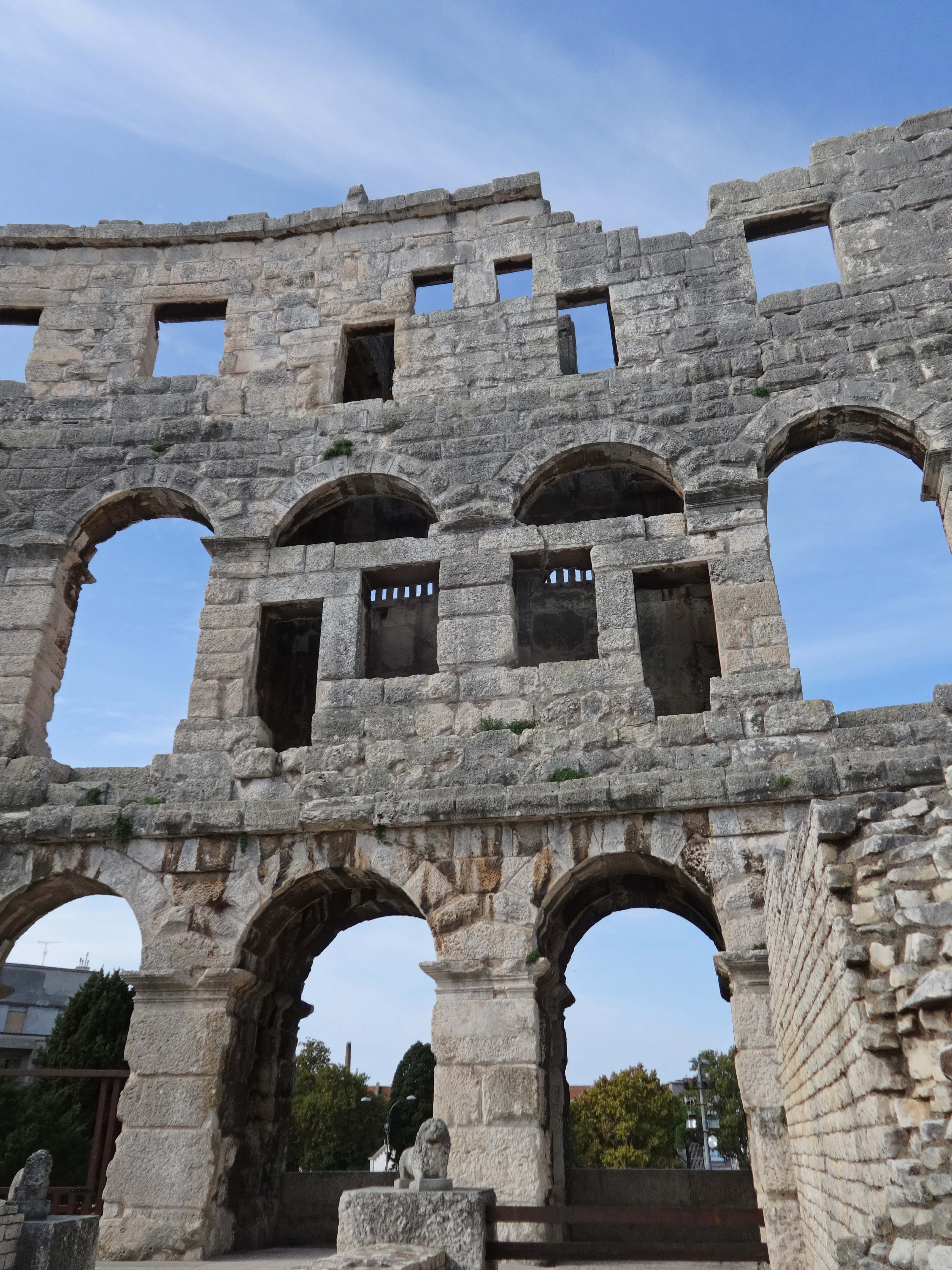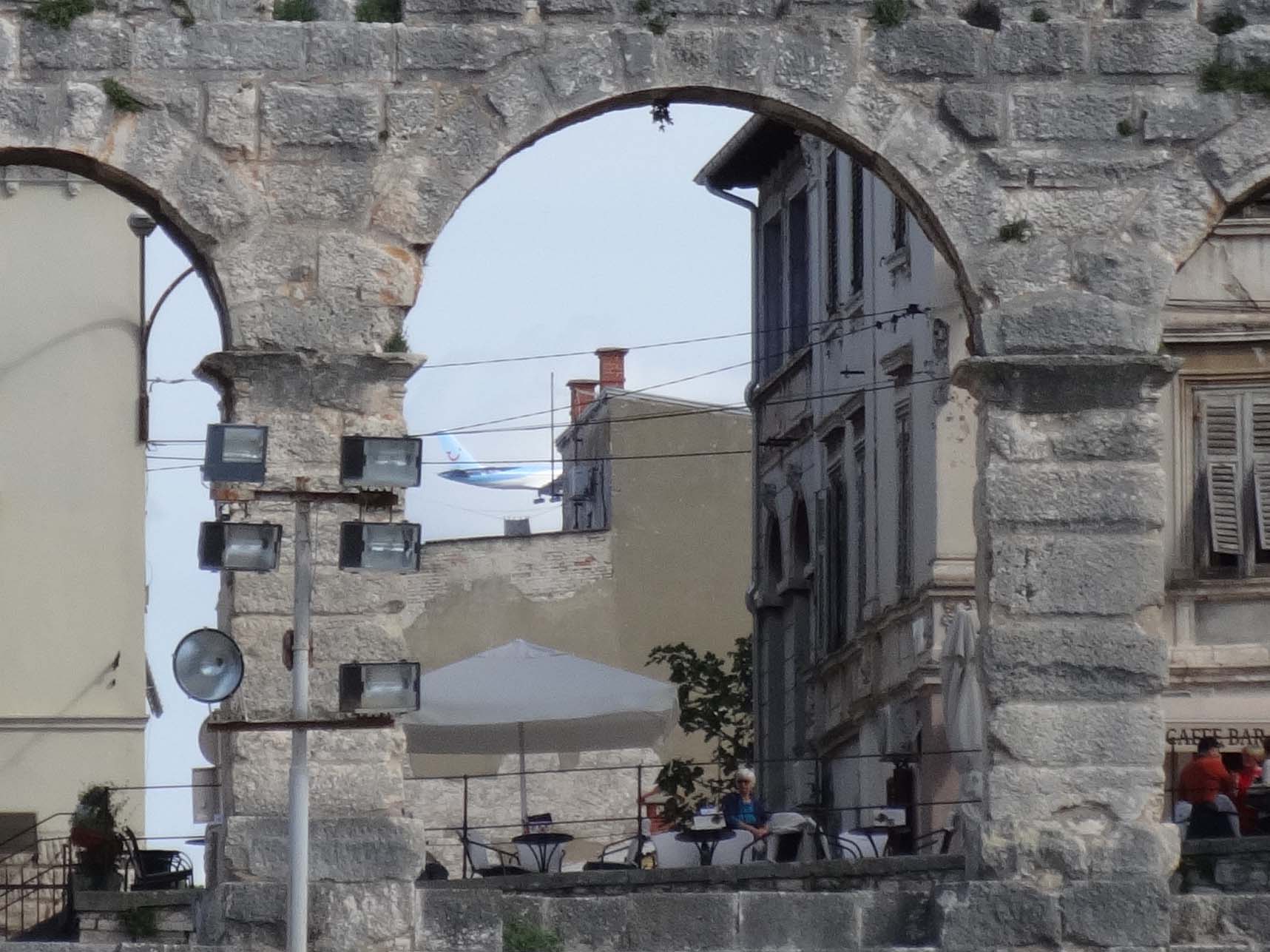 The airport was very close to the town, as you can see from this shot of the back end of a jet on final approach.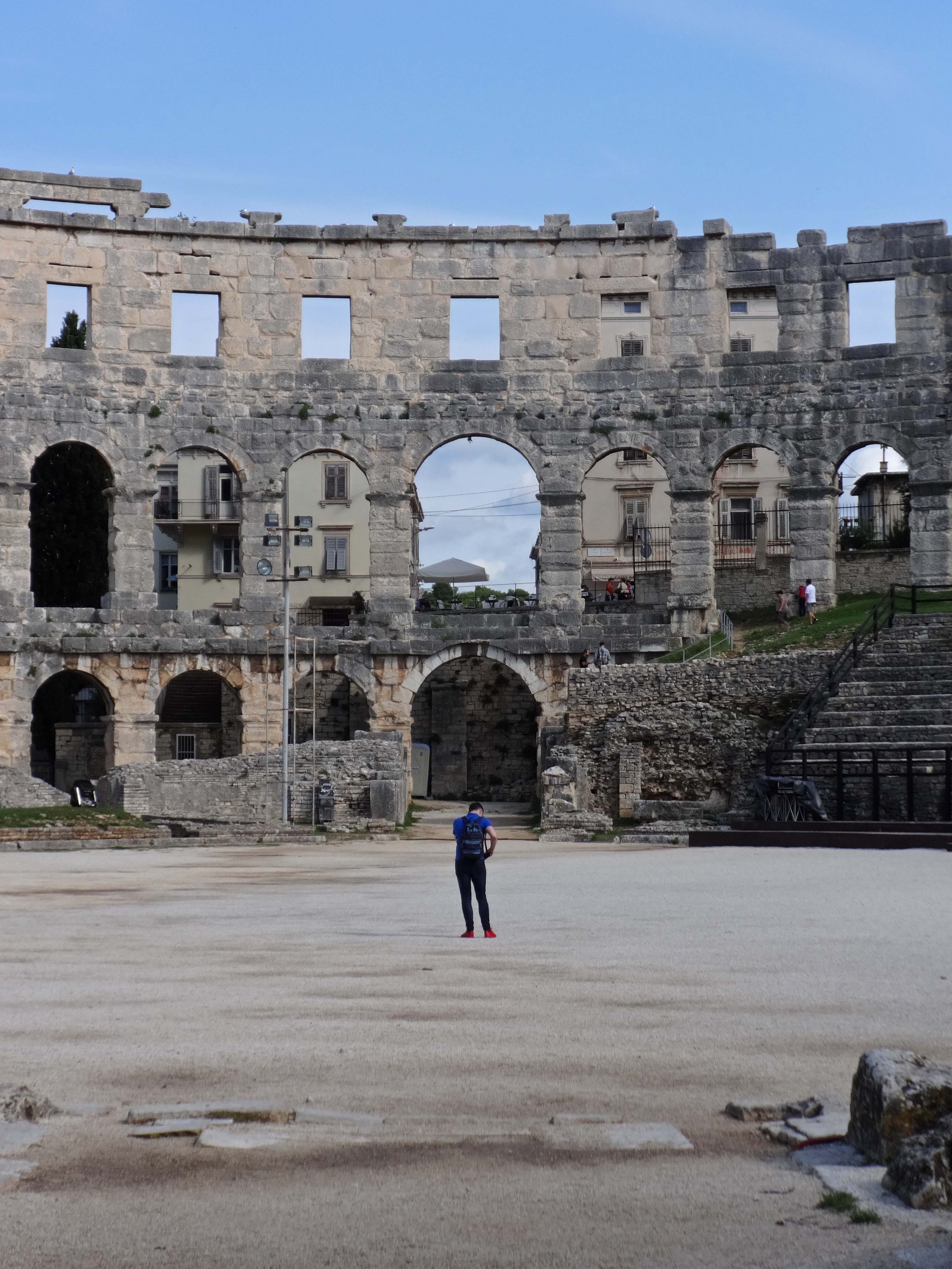 Patrick giving it all gladiator, just with a mobile phone and a rucksack instead of a sword and shield.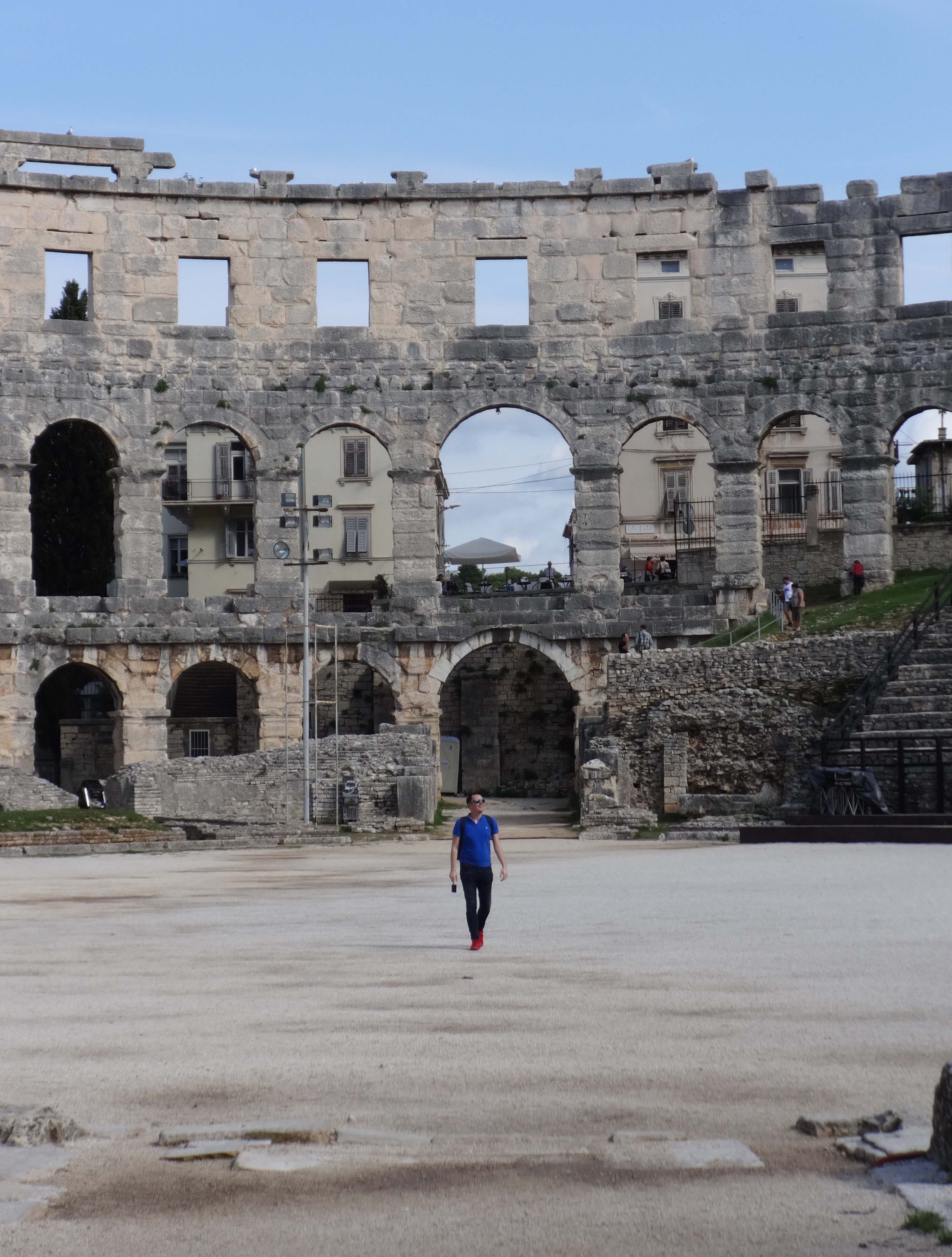 Although this looks more like the background should be on fire or exploding or something.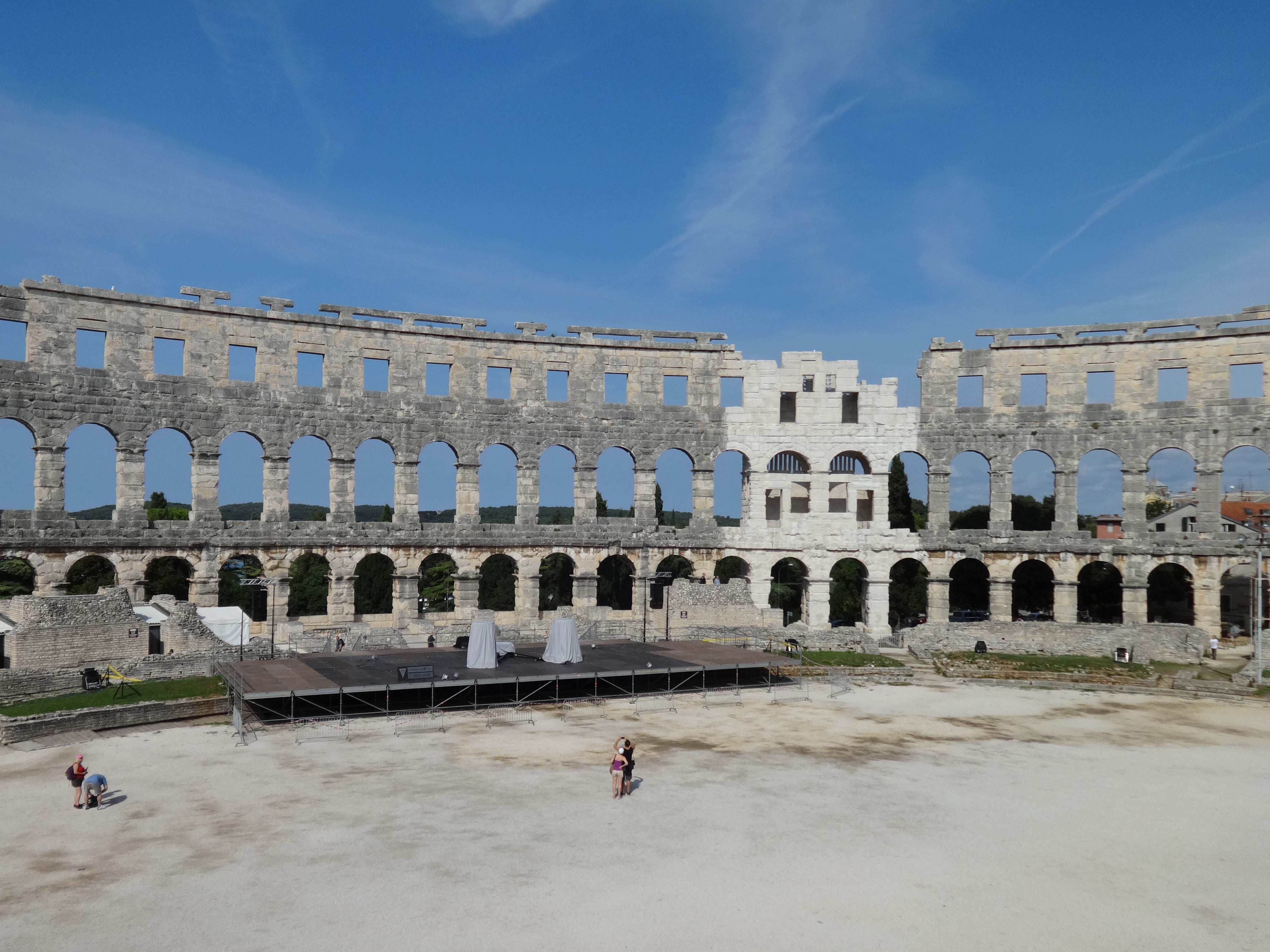 It was a great amphitheater, but spoiled a bit by lighting rigs and stages and such. On the one hand, I'm sure it's a great venue to watch performances on the like, but on the other: I don't care, it got in the way of my view.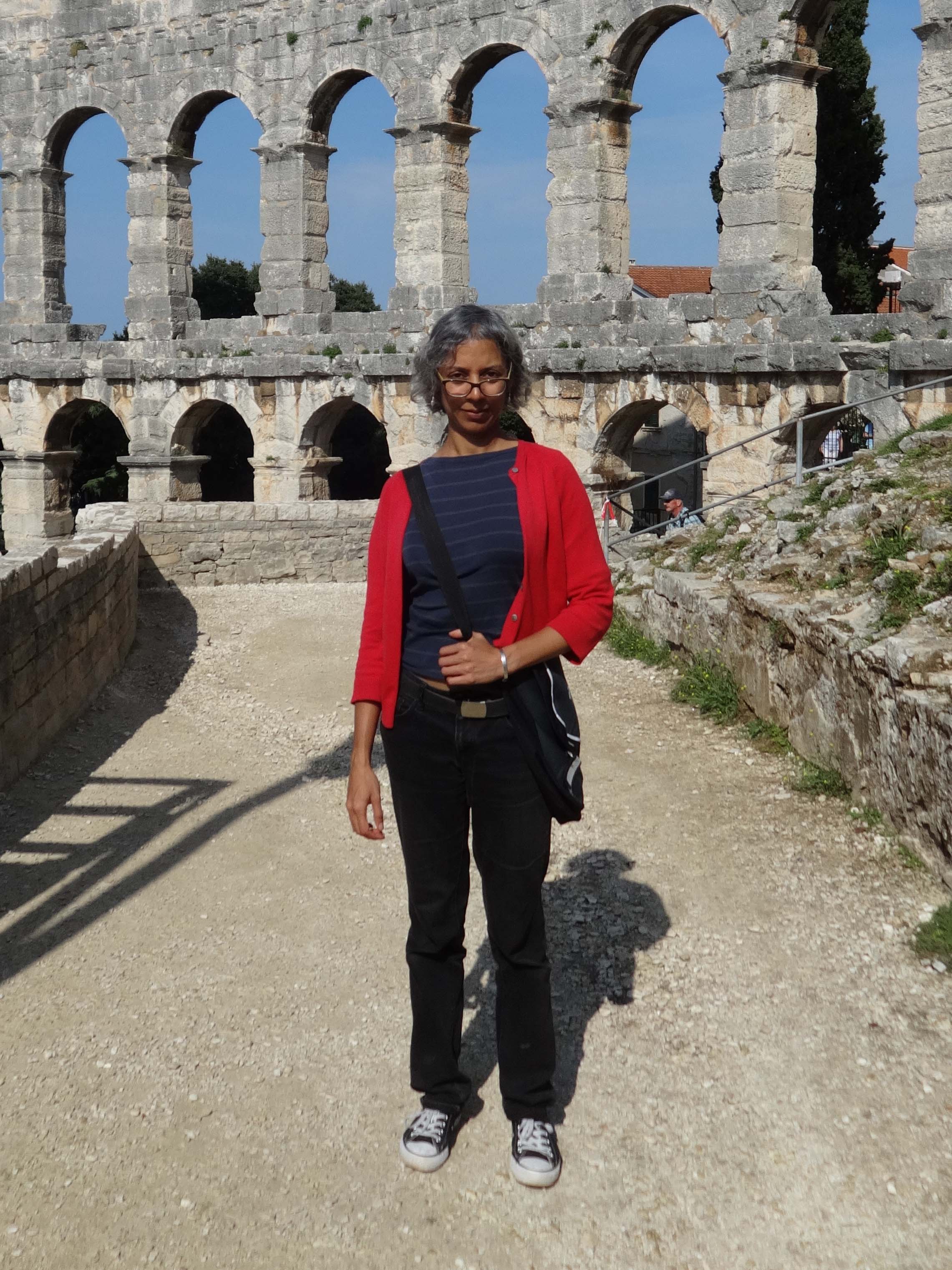 Ann enjoying having her photo taken.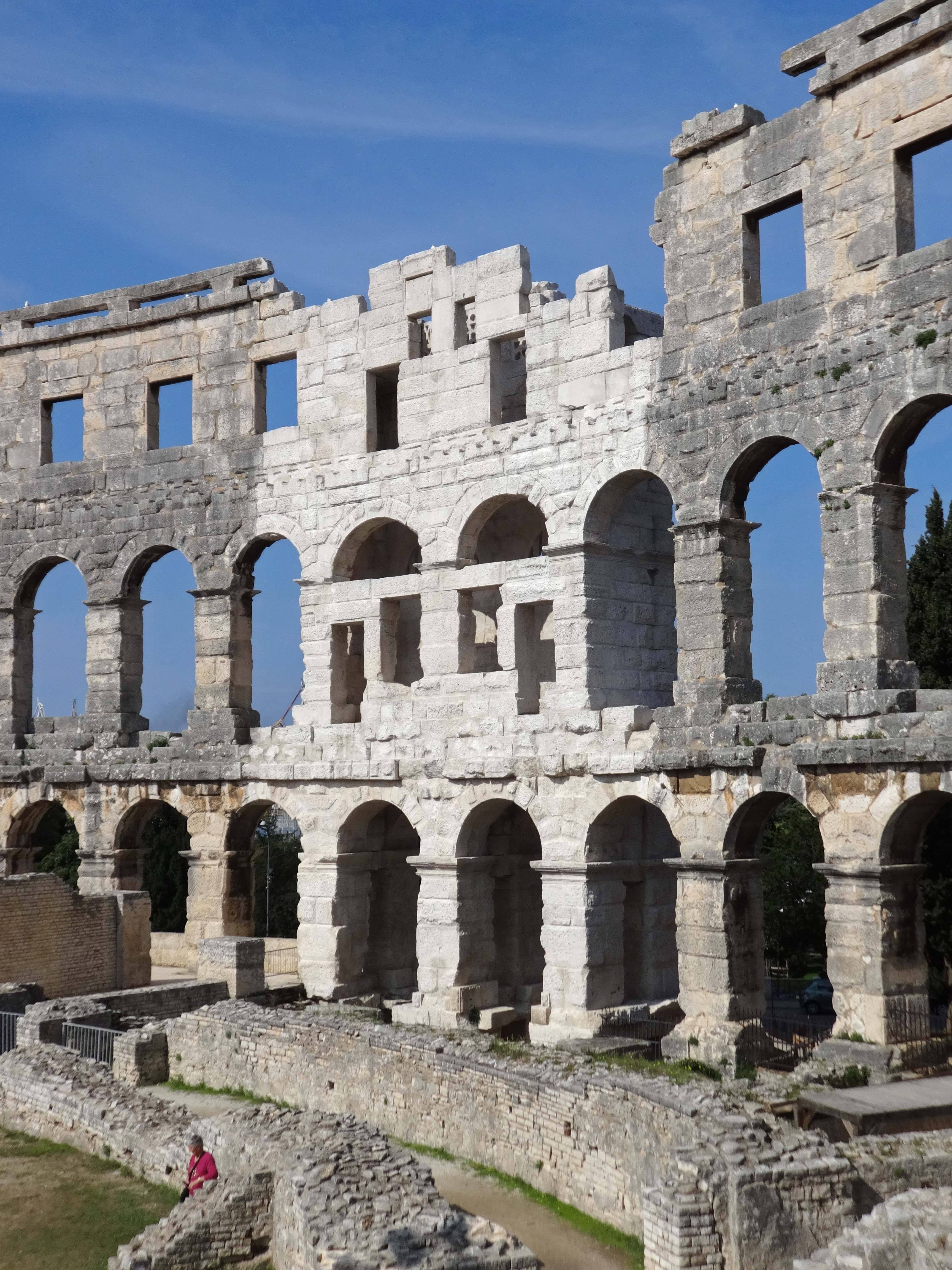 More arches.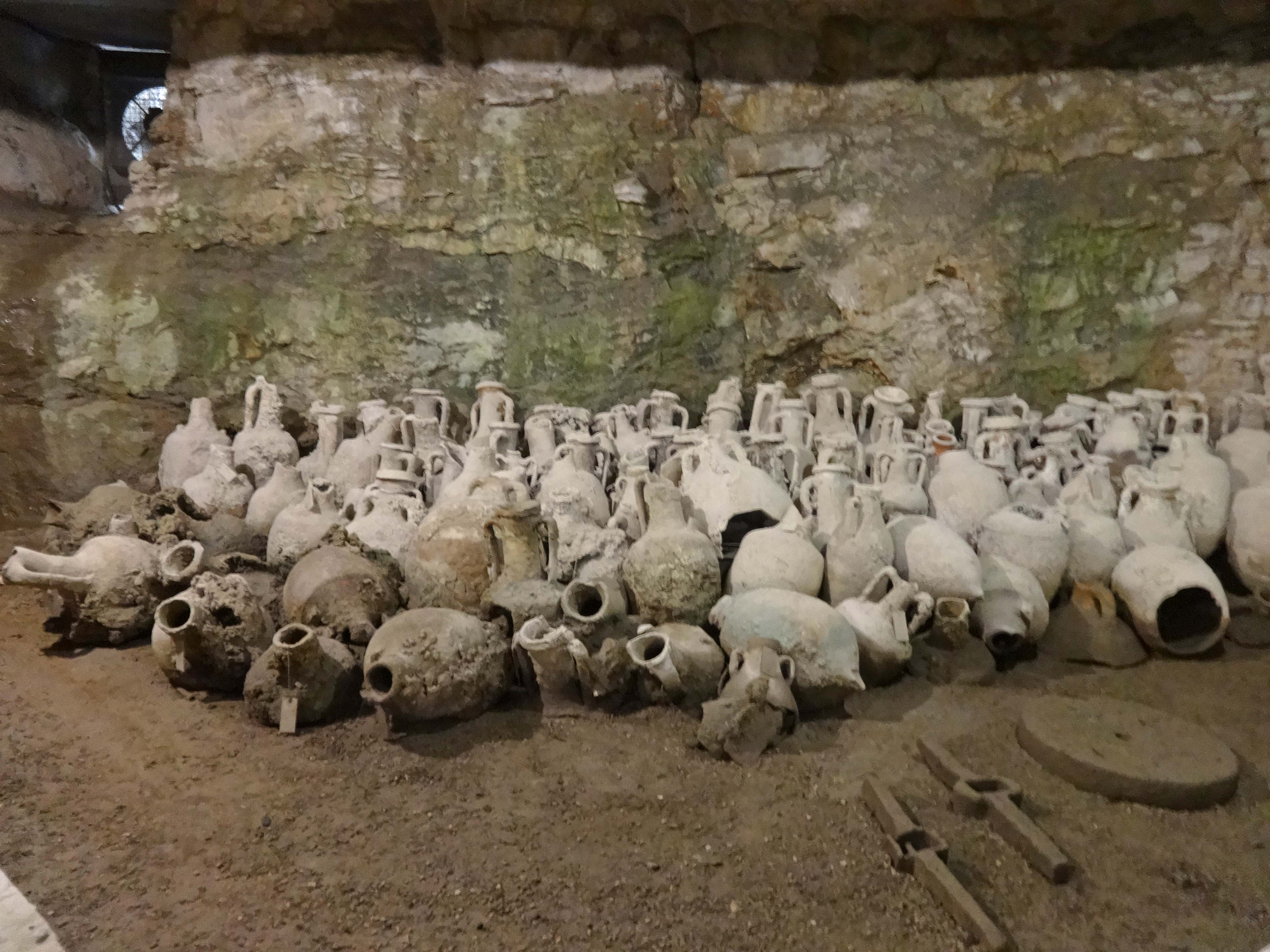 There was a museum in the basement. It had a lot of pots. I'm told they're called "amphora" but if it walks like a pot and quacks like a pot then it's a pot.
One of the classier establishments in town. Trademark infringement sandwich anyone?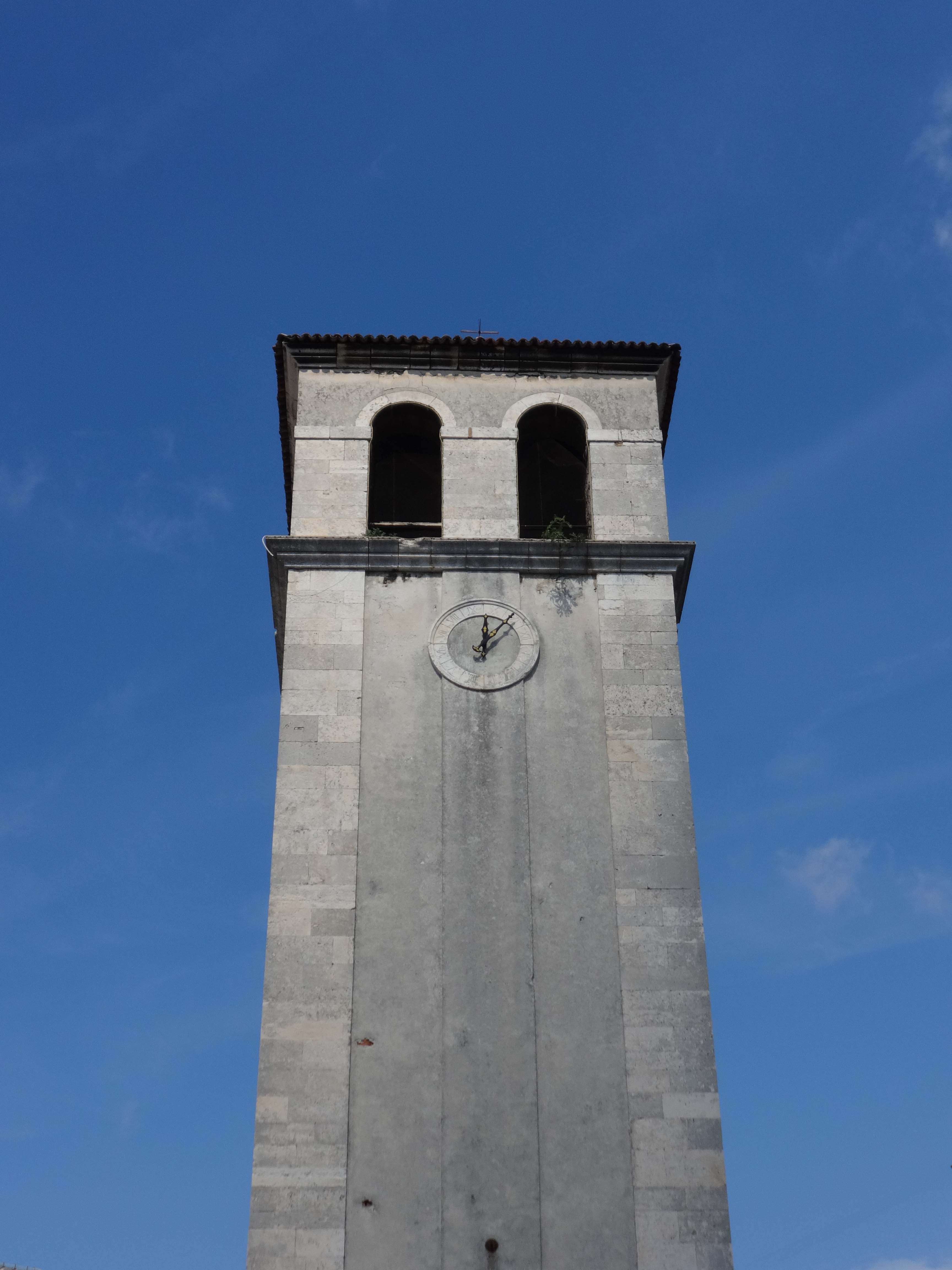 Not to be outdone by Rovinj, Pula also had a tower.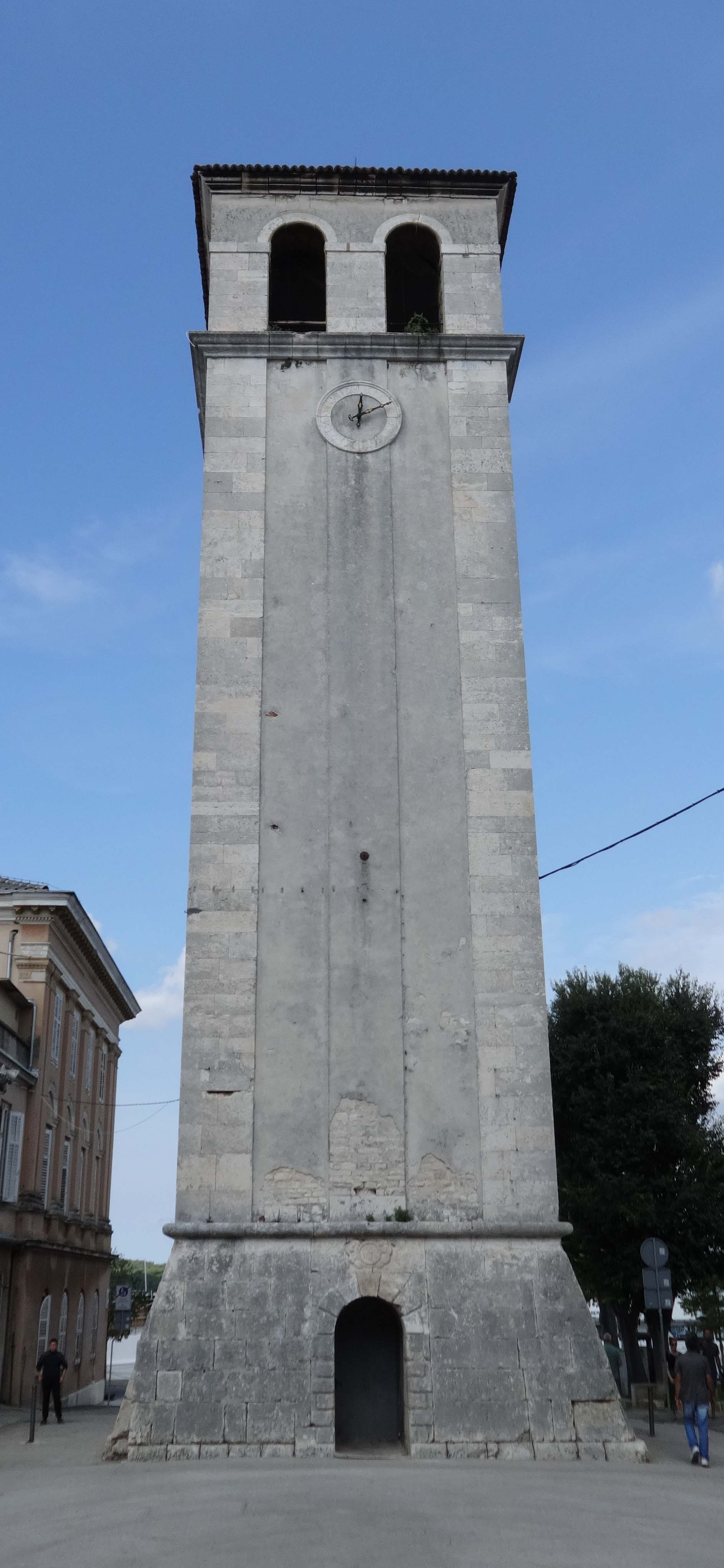 Although you couldn't go up it, and it wasn't attached to the church.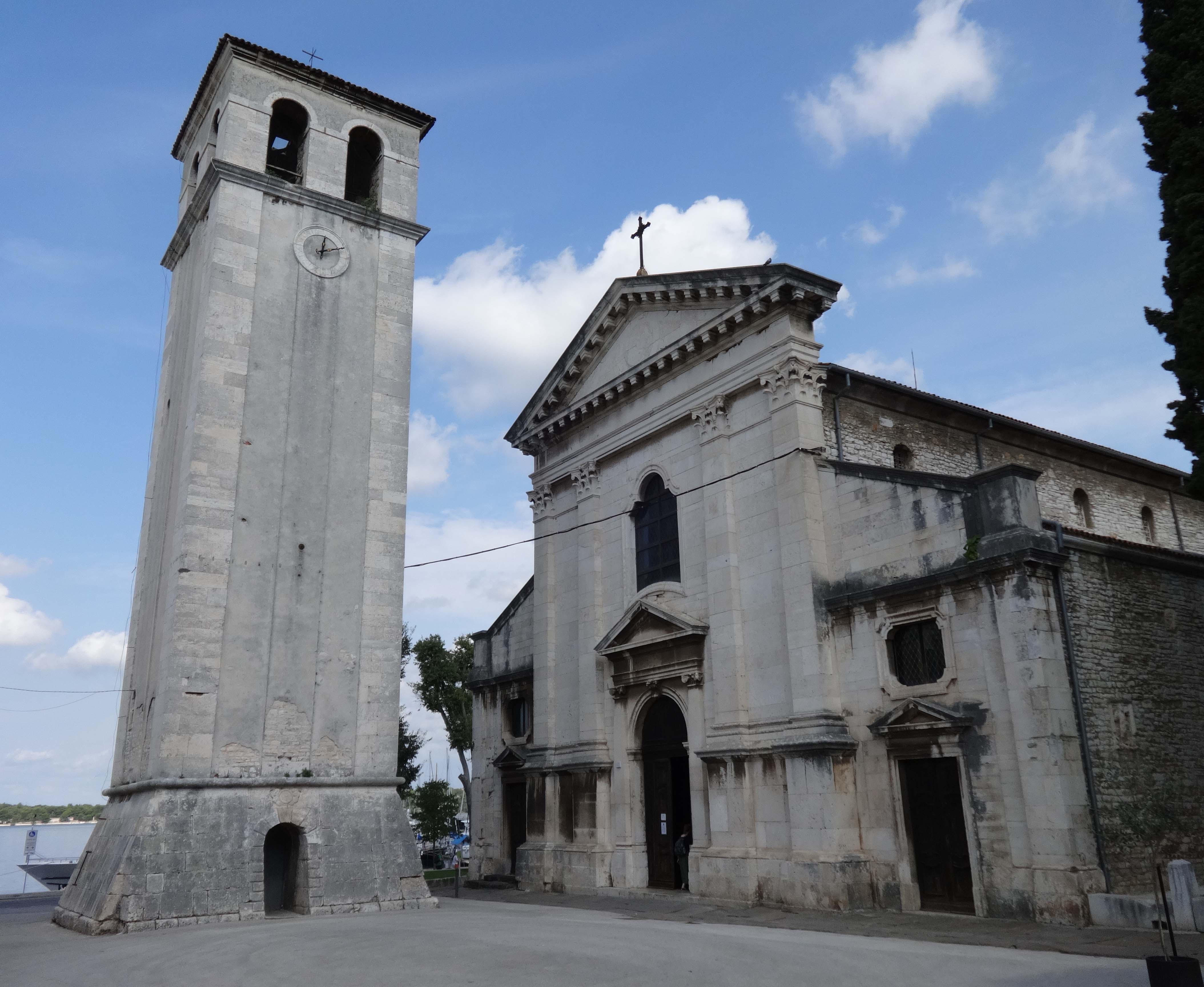 It was like the two buildings had had an argument or something.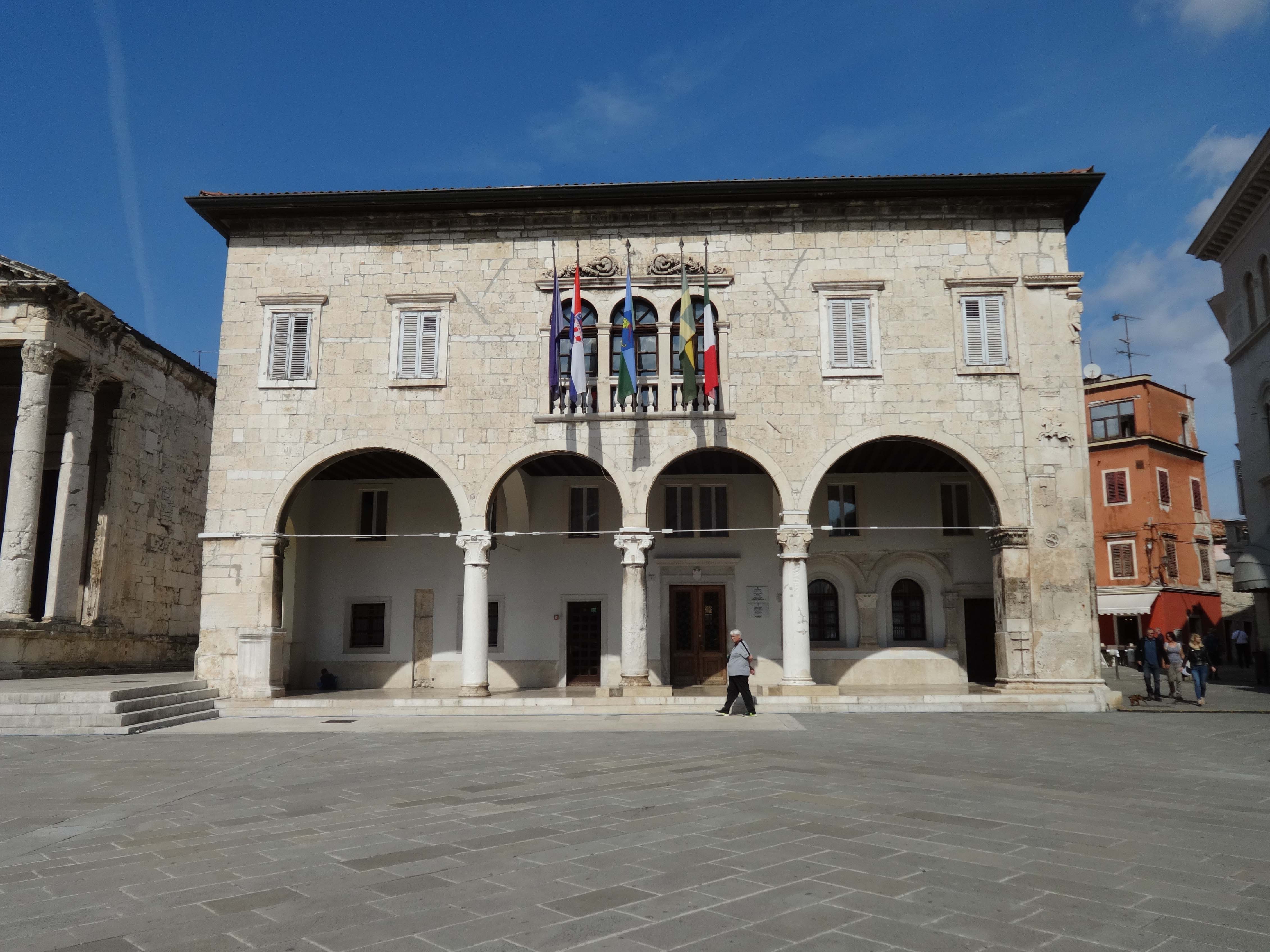 The town square. It might look deserted, but I just got lucky with the photo. In early evening there was a torrent of weddings that poured forth from its doors and had photos taken in front of the old temple thing next door.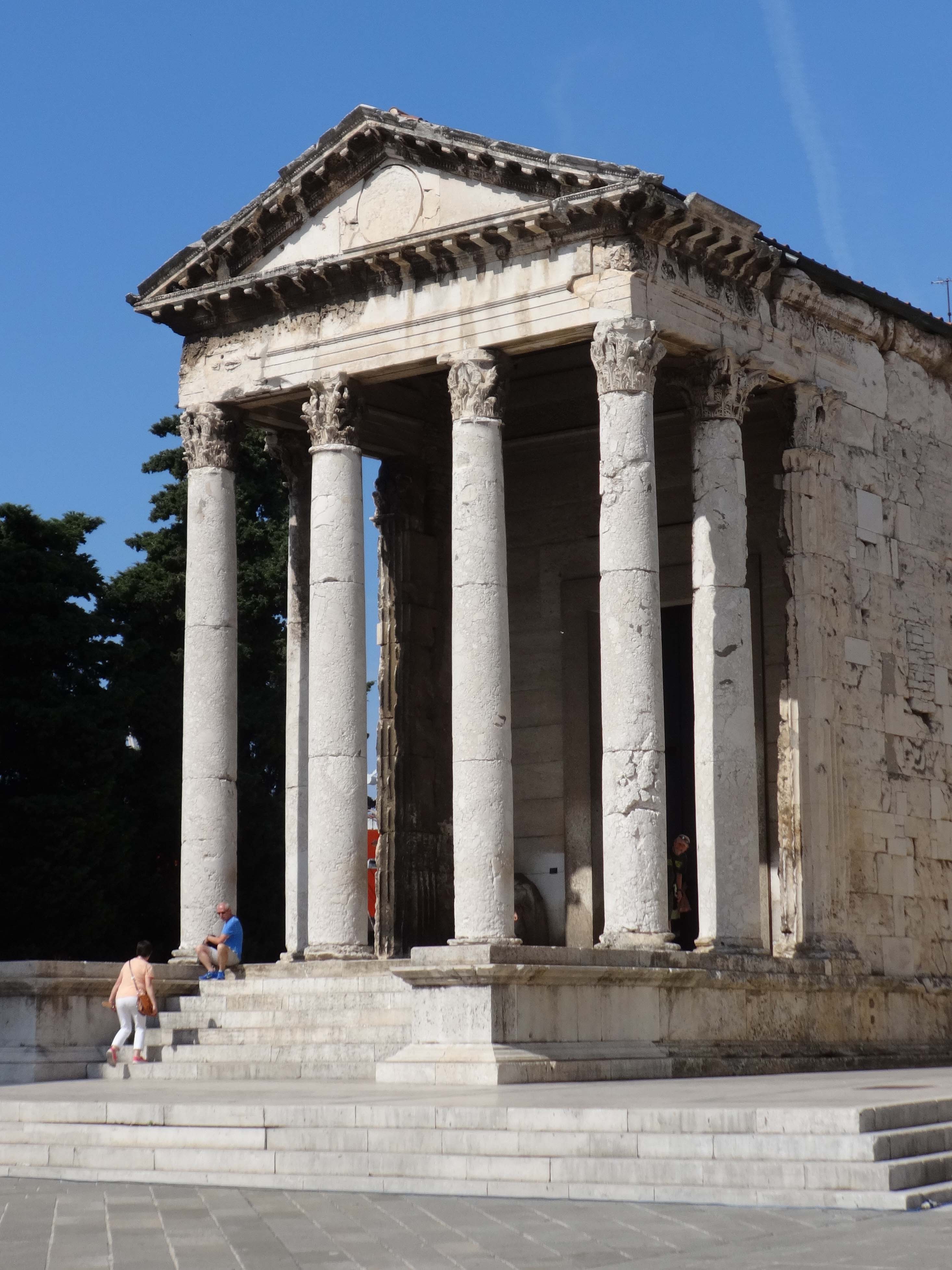 A temple thing which you had to pay to go into, despite it being more interesting on the outside.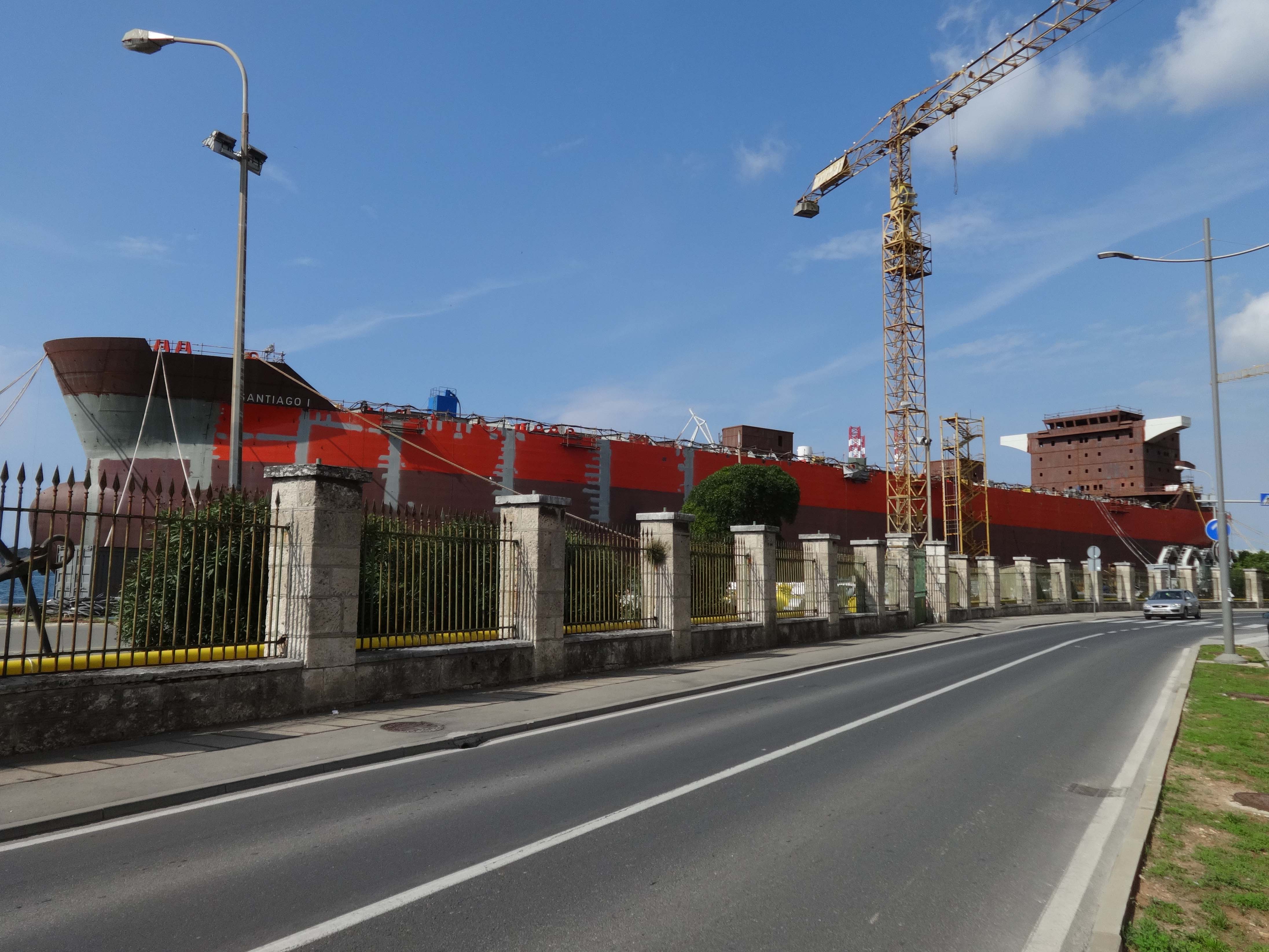 Pula was on the coast, and I loved seeing this old container ship rusting away. I have no idea whether it was being dismantled, used for storage or repaired, but it was MASSIVE.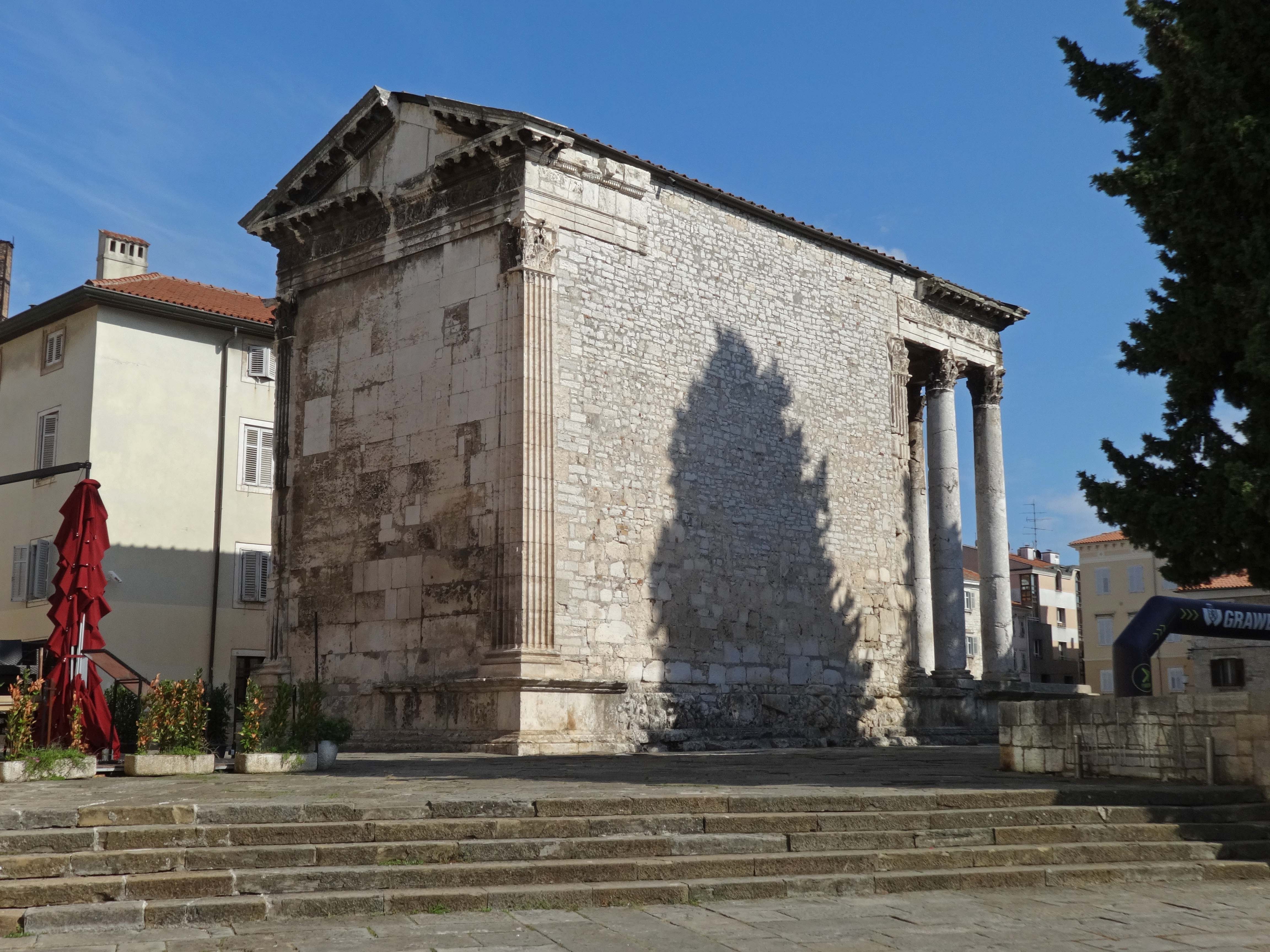 The back of the Temple of Overpriced Admission.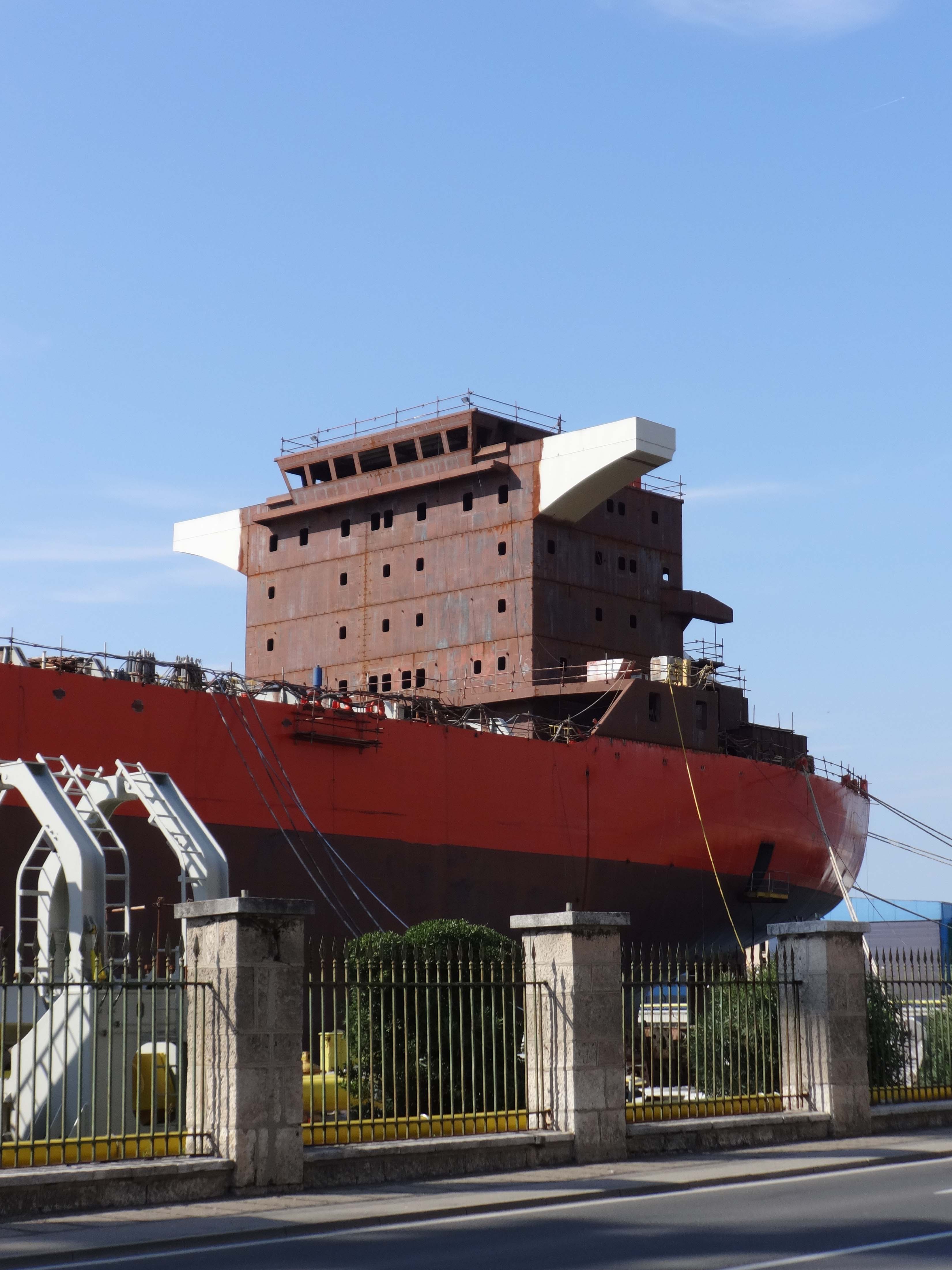 Which contrasted nicely with the bridge of the ship opposite.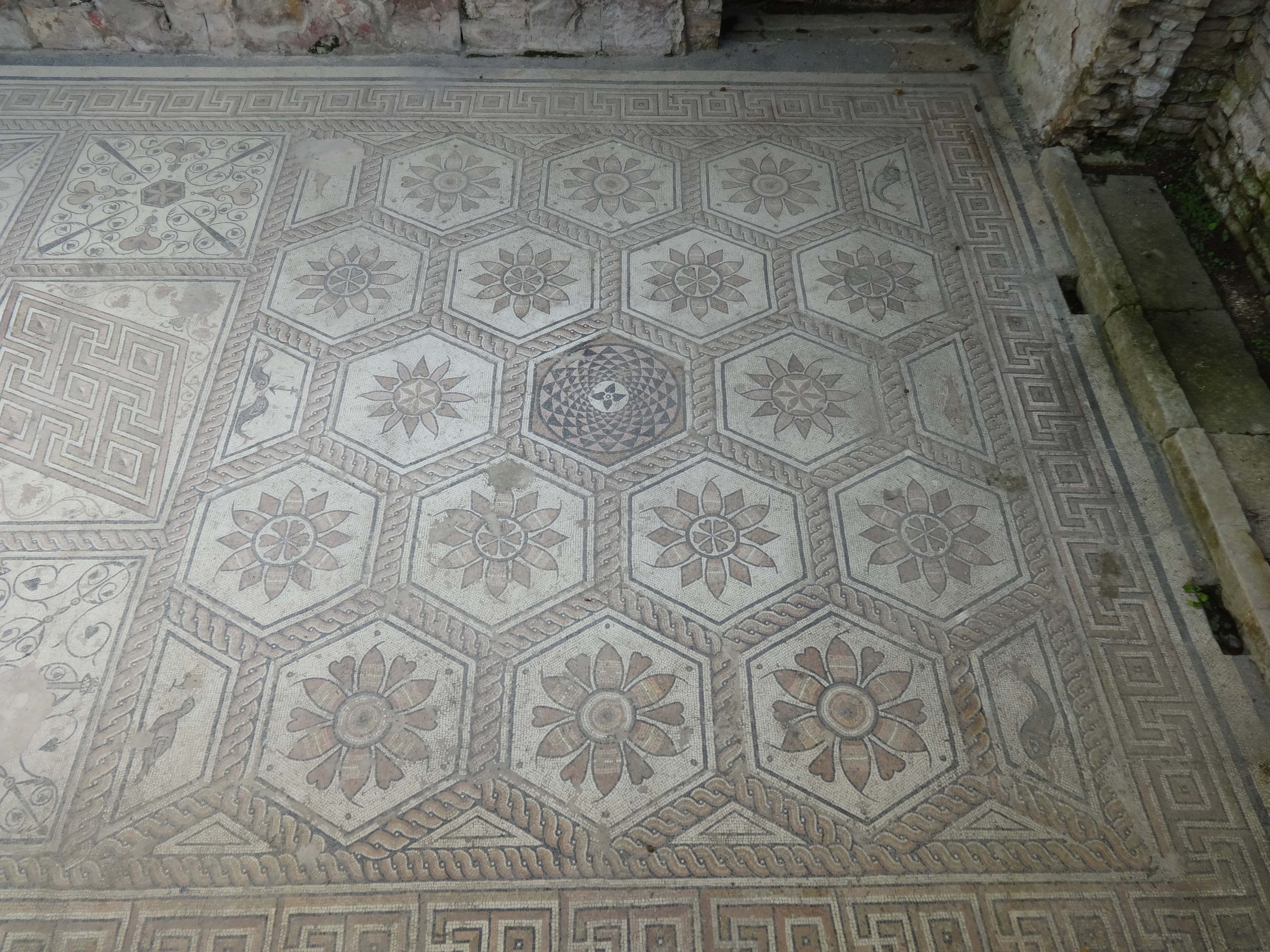 We found a mosaic. It was harder to track down than you might think, and we only found it because an online guide said it was harder to track down than you'd think. Basically, follow signs, go into the car park, and then look for the place you'd least expect to find a Roman mosaic and you're there.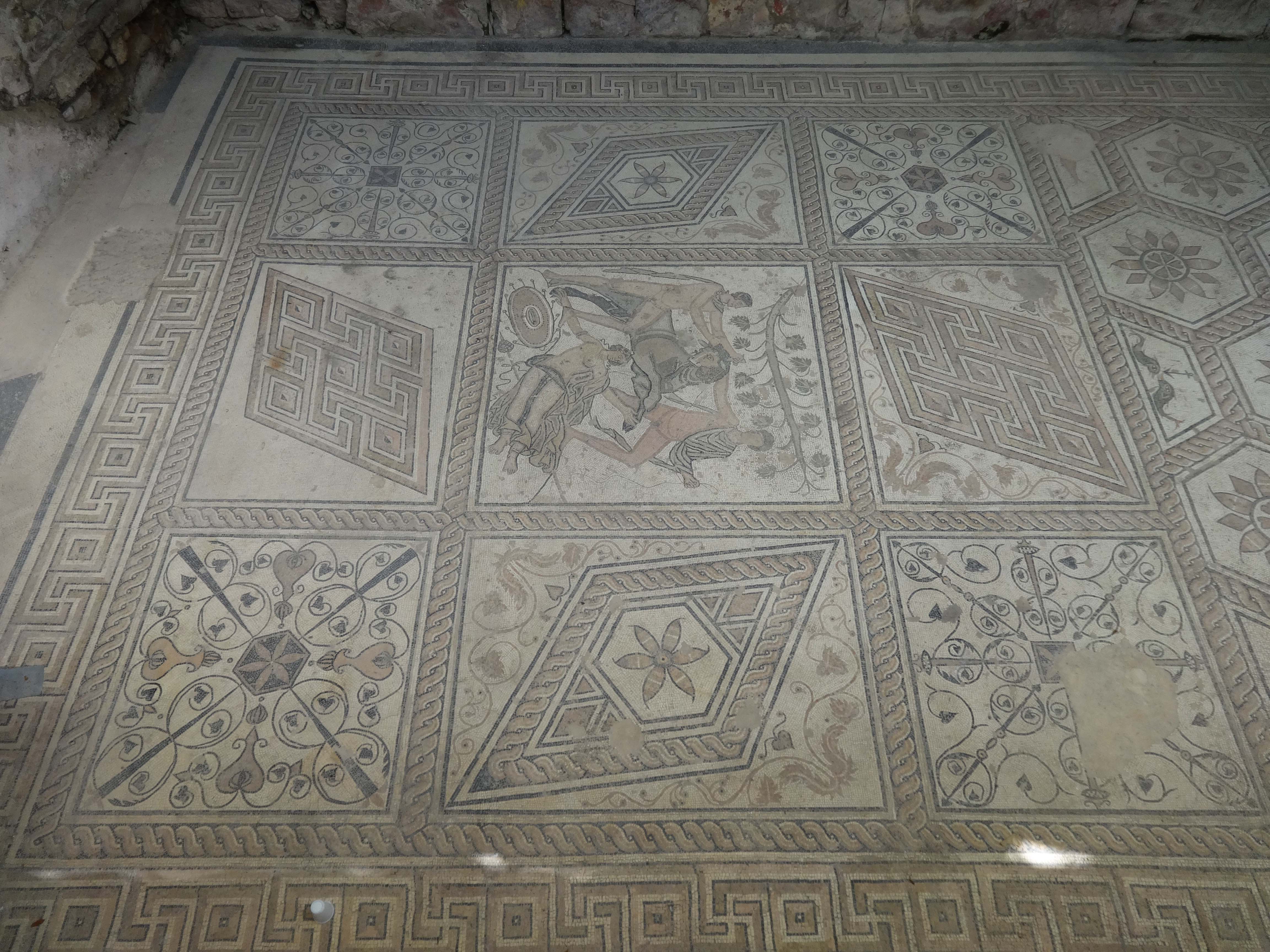 The other half of the mosaic. It was something about a woman being punished for doing something bad by being tied to a cow. You can tell I was paying attention.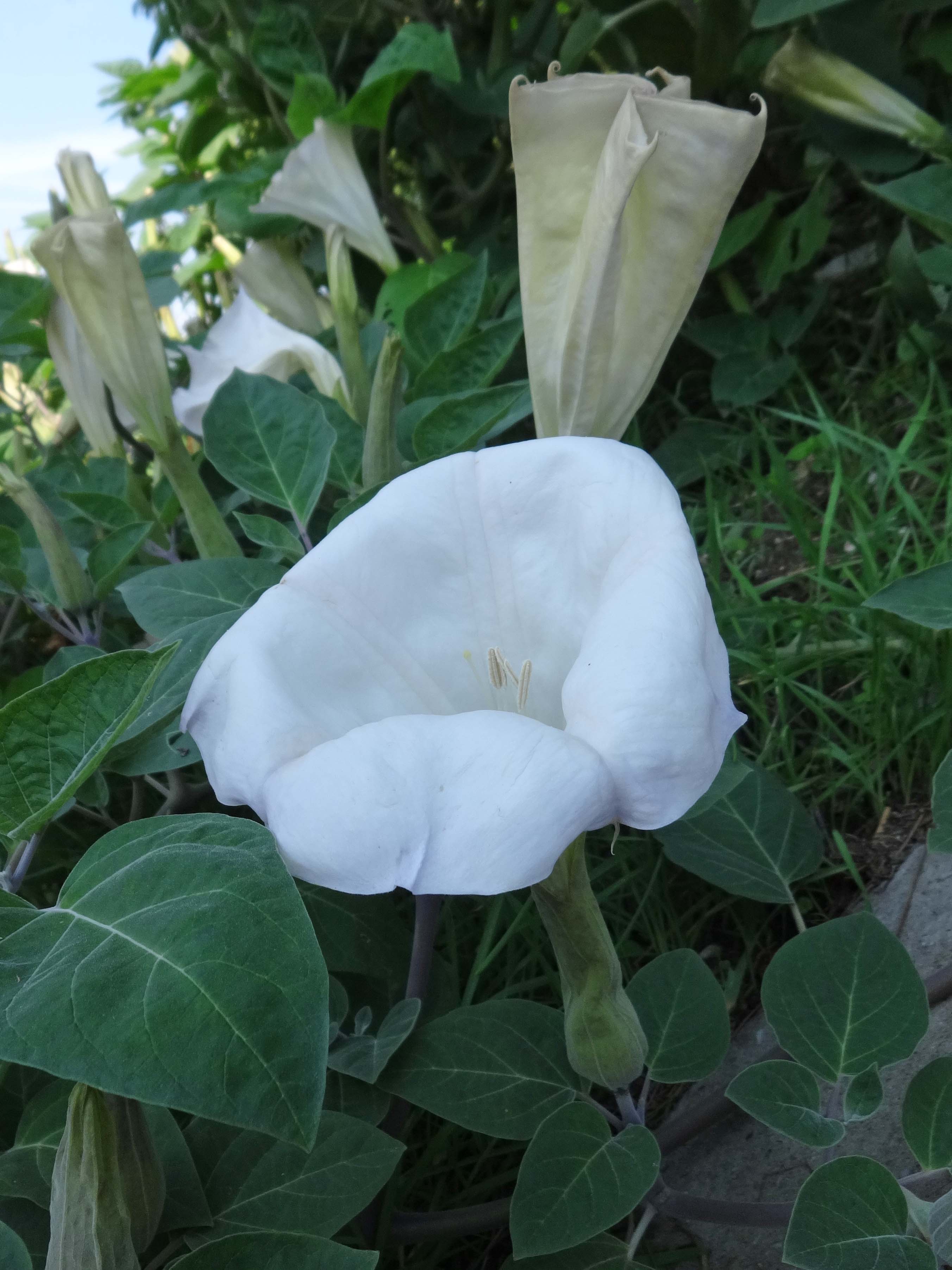 Some flowers. They were quite big, but you can't tell in this photo.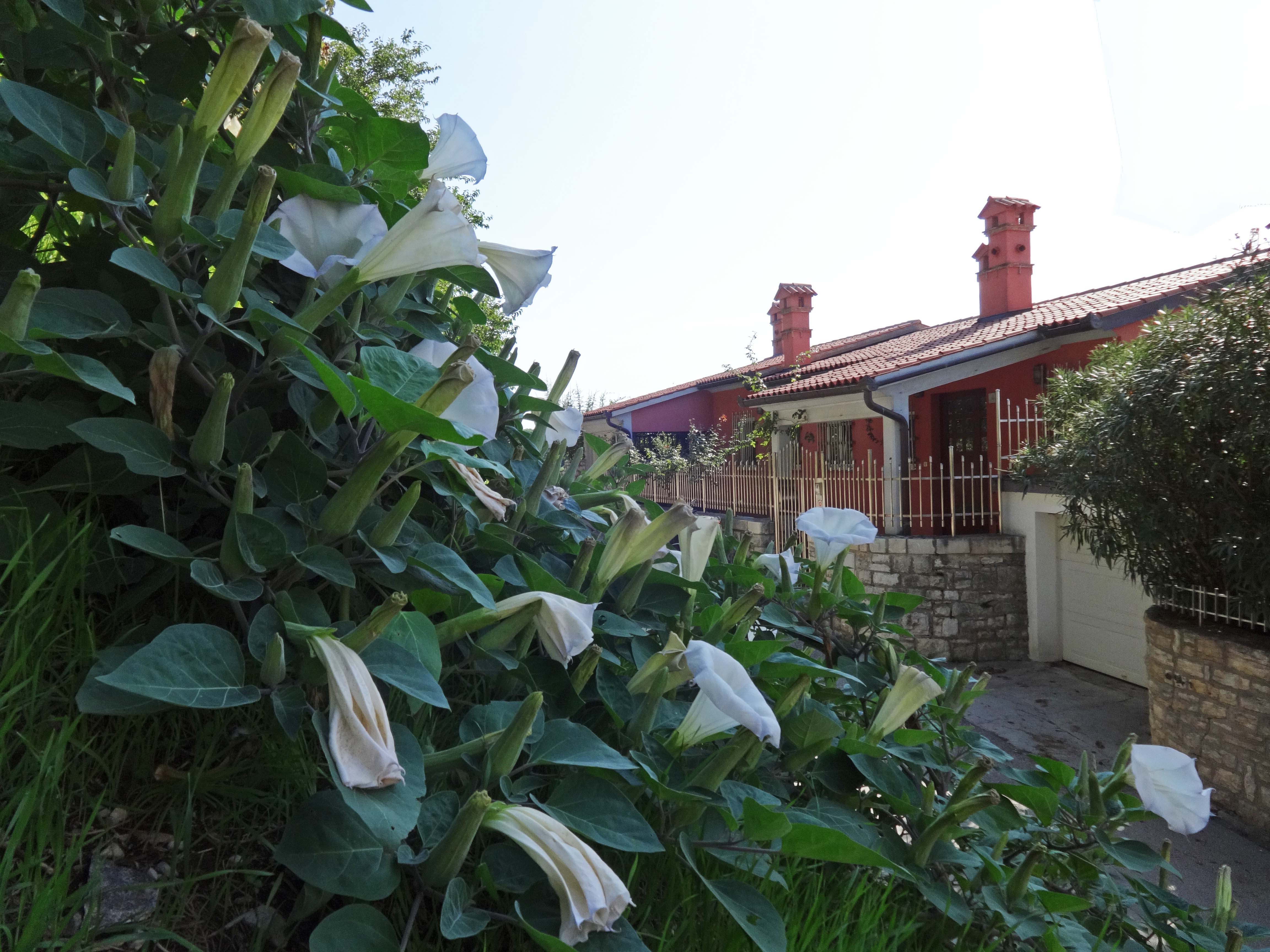 You still can't tell how big those flowers were even with a building for scale. That's the trouble with perspective sometimes.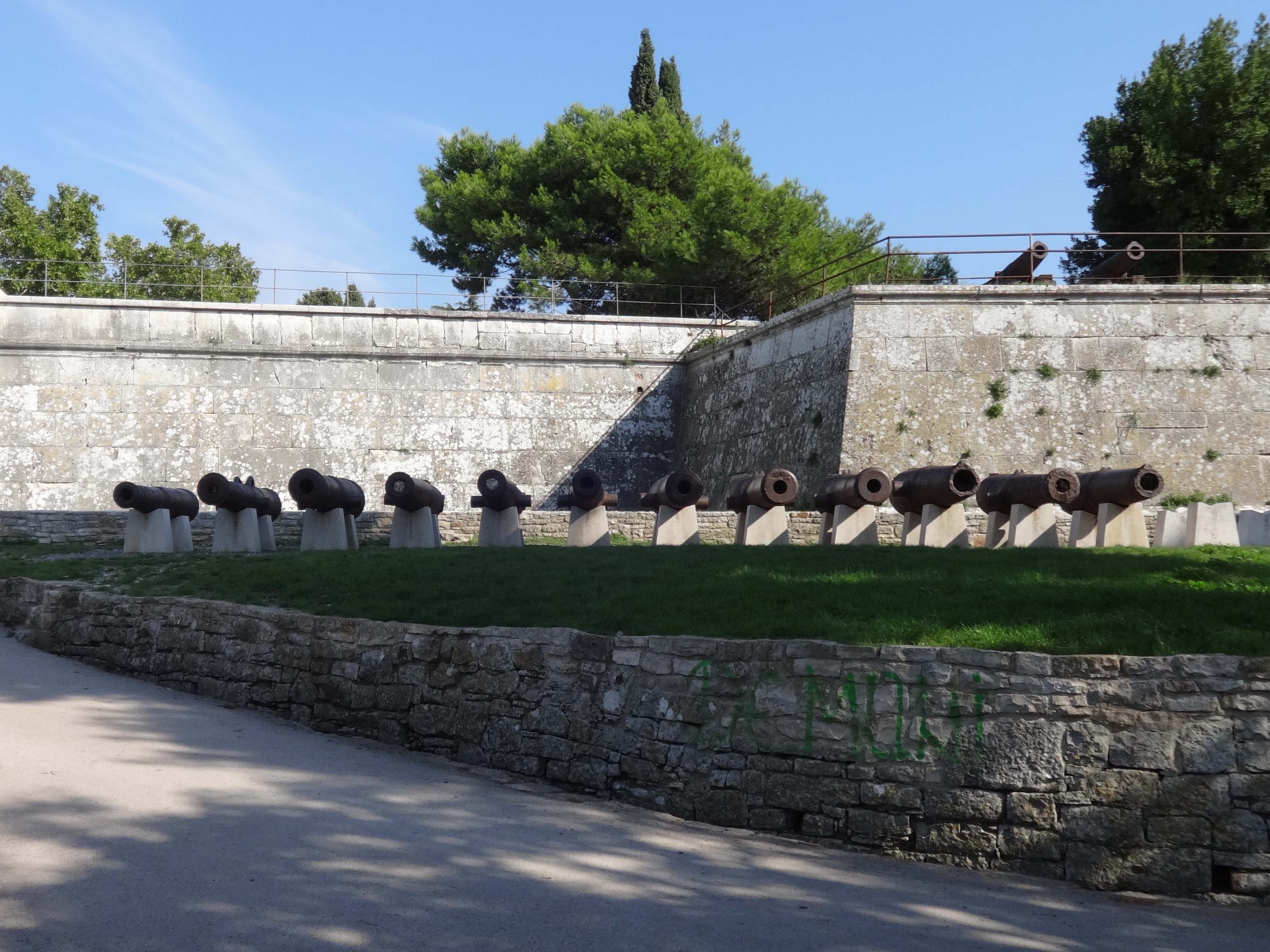 We went up to the castle and were welcome by an array of cannons.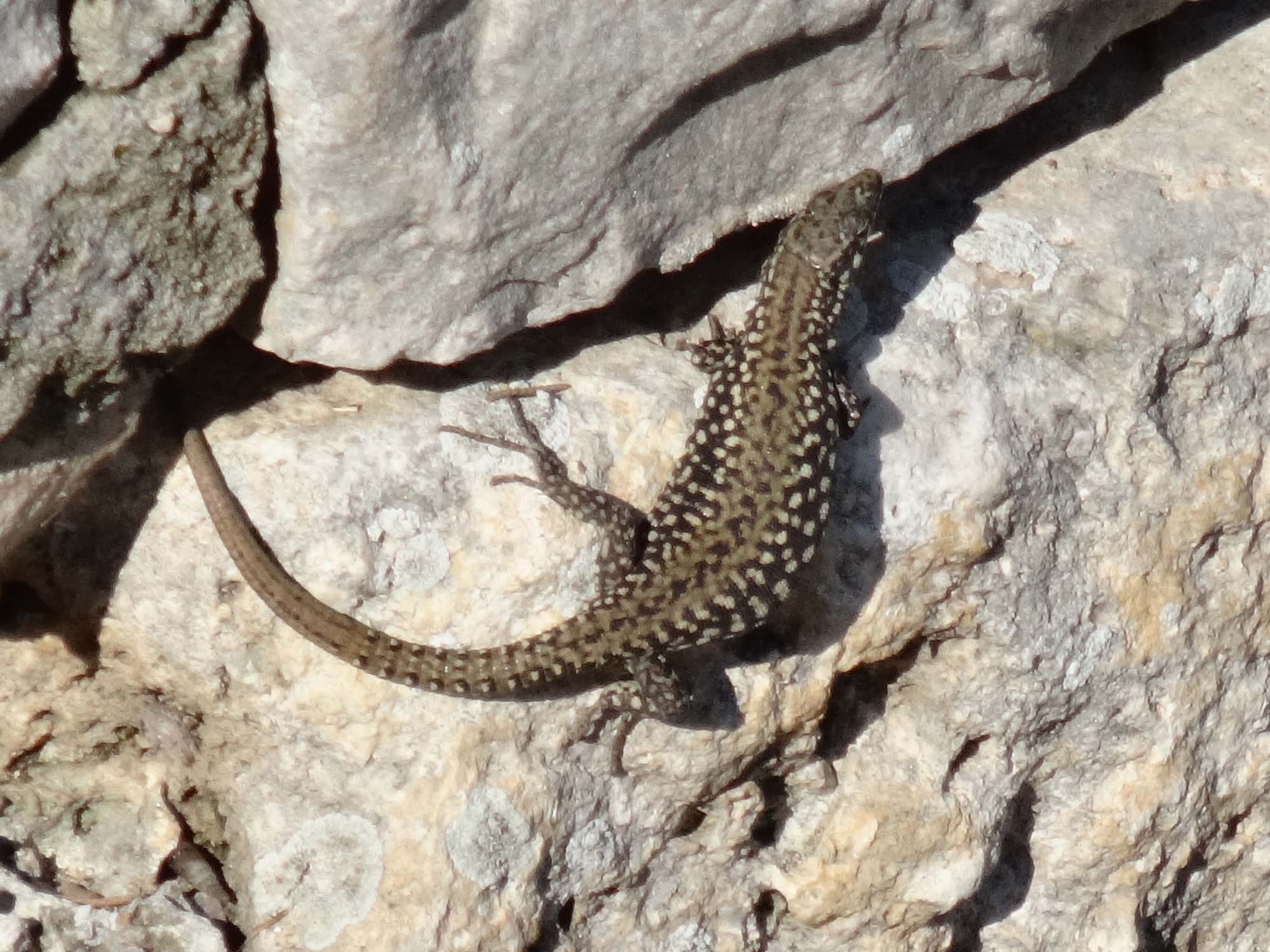 And a very tiny Godzilla. For some reason, the sunglasses I took with me rendered most lizards invisible and I only saw them if someone else pointed them out and I took my sunglasses off.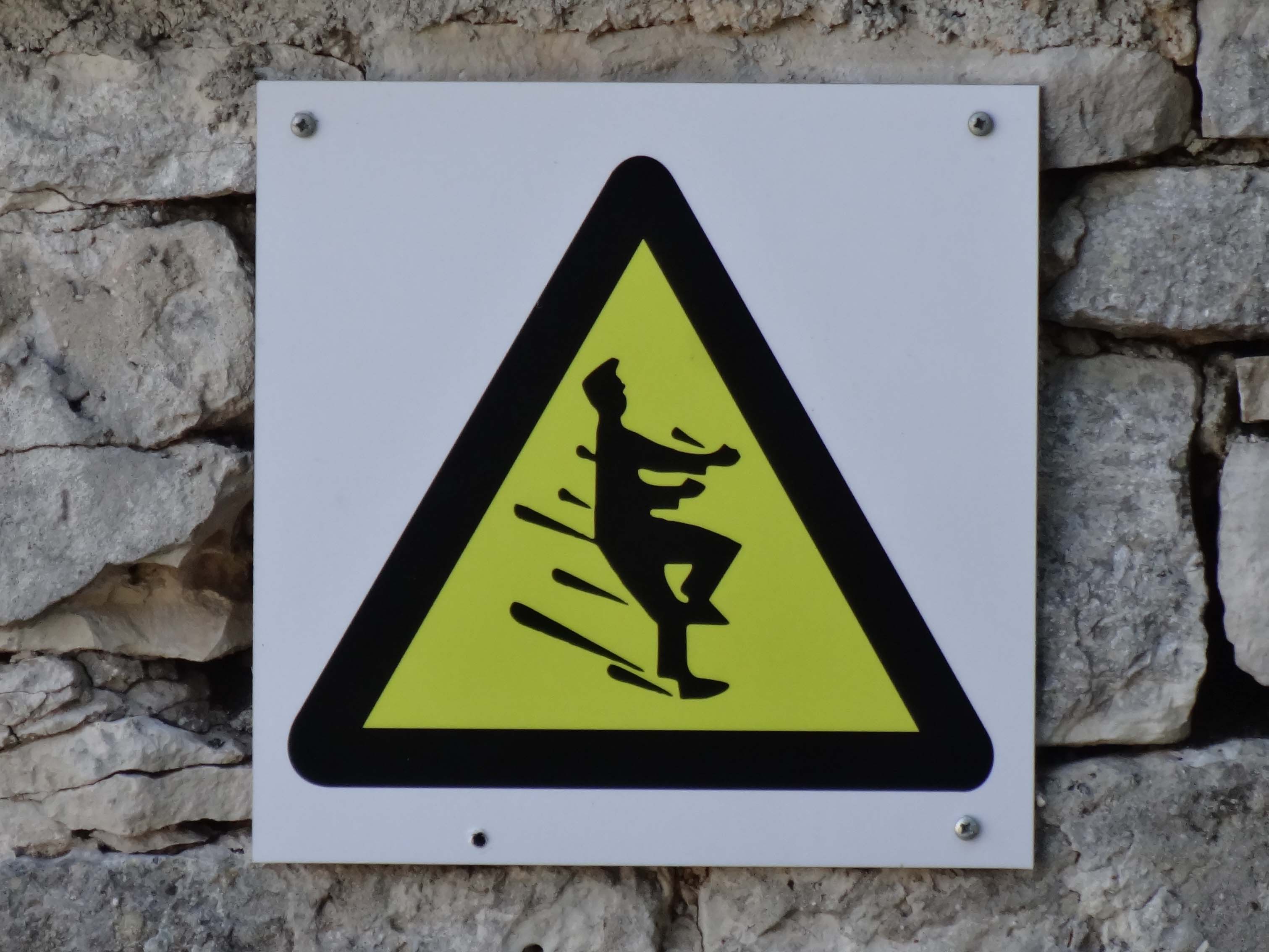 Be careful of doing whatever bad thing is happening in this sign.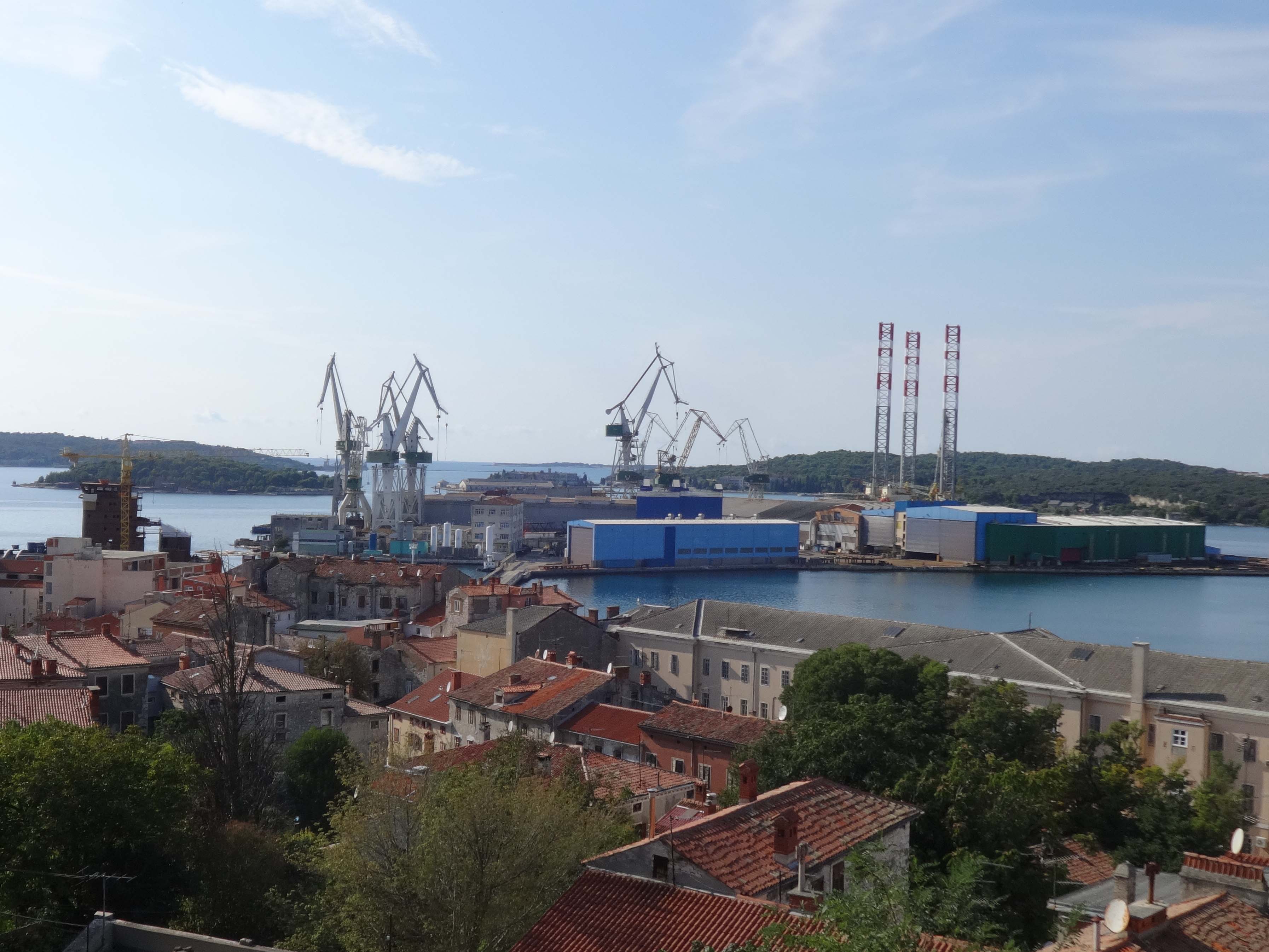 The view from the top of the castle.
The cannons from the other side. Not so scary now you're all pointing in the wrong direction, eh?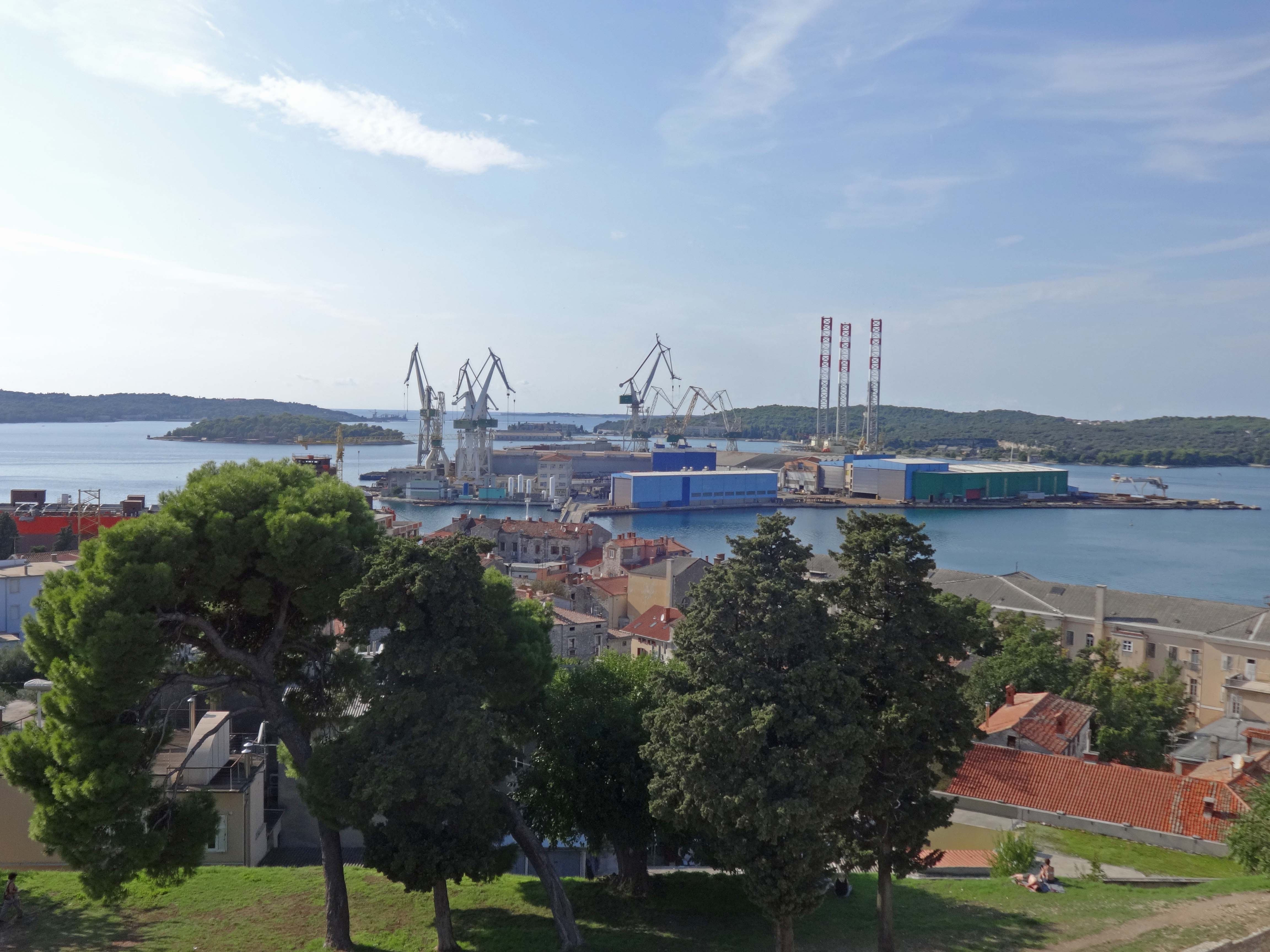 Looking at the dock of the bay.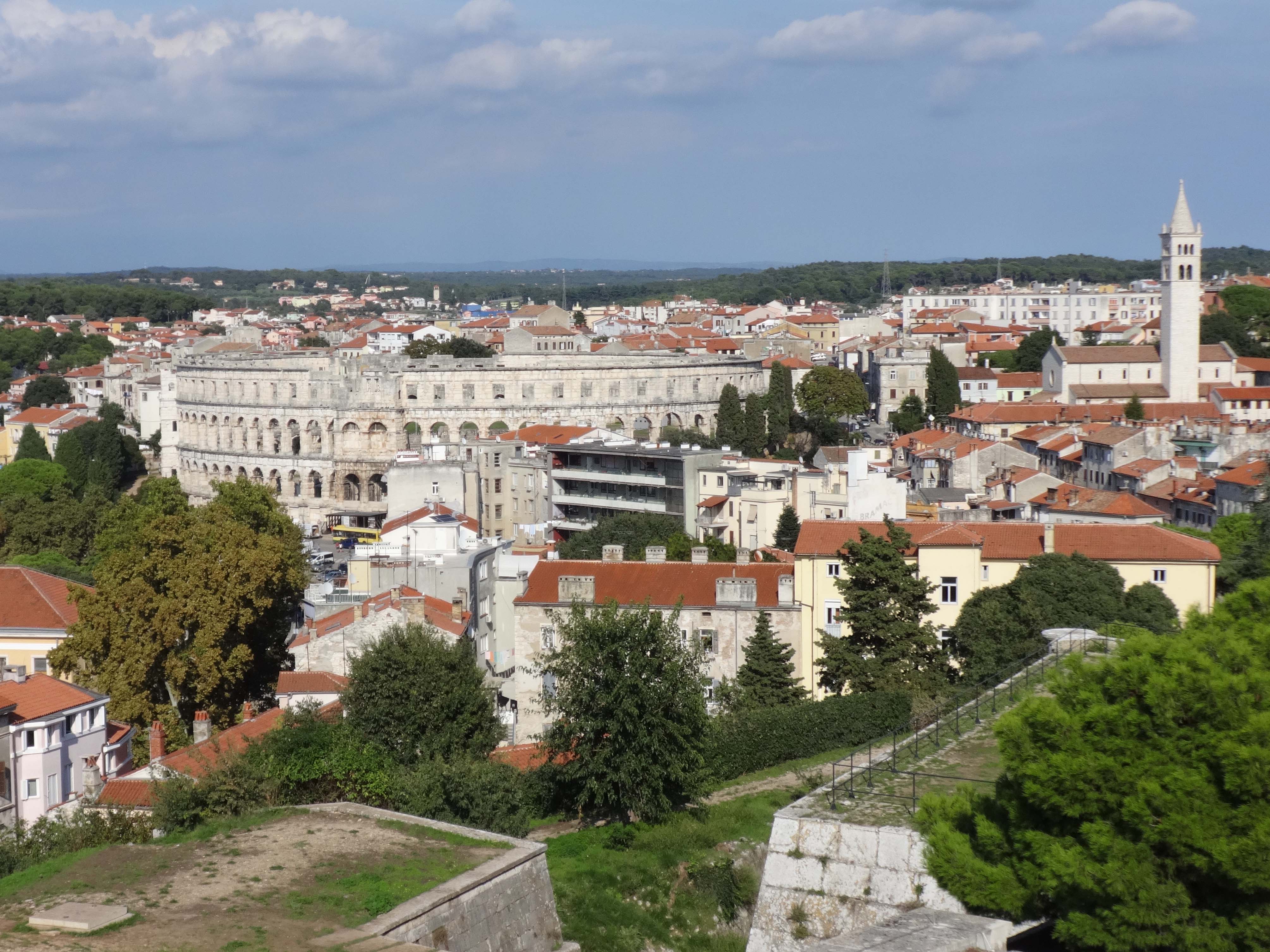 From the castle back to the amphitheater. It was a grand view and a very slow day and rather pleasant, right up until the flight delay, then getting to Gatwick and finding that despite checking before we left there weren't very many trains to London, and then getting in at just shy of 4am. Still, I'm thankful for all night tube for the first time.
For me, the week I spent in Crotia has to go down one of the best trail rides I've been on. It may not have quite had the spectacular scenery of the ride in Jordan, but it was well organised, we were well fed, we had nice beds each night, the horses were good to ride yet still even-tempered, and Petar looked after us very well. Plus, we saw a little of that part of historic Croatia, a country that I knew nothing about before and now know almost nothing about.
All posts in this holiday:
Riding in Istria (Croatia) – Day 1